03.11.2018 | Review | Ausgabe 6/2018 Open Access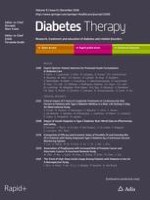 Expert Opinion: Patient Selection for Premixed Insulin Formulations in Diabetes Care
Zeitschrift:
Autoren:

Sanjay Kalra, Leszek Czupryniak, Gary Kilov, Roberta Lamptey, Ajay Kumar, A. G. Unnikrishnan, Aissa Boudiba, Mohamed Abid, Zhanay A. Akanov, Ali Latheef, Mustafa Araz, Ralph Audehm, Silver Bahendeka, Naby Balde, Sandeep Chaudhary, Chaicharn Deerochanawong, Olufemi Fasanmade, Hinde Iraqi, Tint Swe Latt, Jean Claude Mbanya, Joel Rodriguez-Saldana, Ko Seung Hyun, Zafar A. Latif, Maxim Lushchyk, Magdy Megallaa, Mohammed Wali Naseri, Nguyen Quang Bay, Kaushik Ramaiya, Hoosen Randeree, Syed Abbas Raza, Khalid Shaikh, Dina Shrestha, Eugene Sobngwi, Noel Somasundaram, Norlela Sukor, Rima Tan
Wichtige Hinweise
Enhanced digital features
Abstract
Premixed insulins are an important tool for glycemic control in persons with diabetes. Equally important in diabetes care is the selection of the most appropriate insulin regimen for a particular individual at a specific time. Currently, the choice of insulin regimens for initiation or intensification of therapy is a subjective decision. In this article, we share insights, which will help in rational and objective selection of premixed formulations for initiation and intensification of insulin therapy. The glycemic status and its variations in a person help to identify the most appropriate insulin regimen and formulation for him or her. The evolution of objective glucometric indices has enabled better glycemic monitoring of individuals with diabetes. Management of diabetes has evolved from a 'glucocentric' approach to a 'patient-centered' approach; patient characteristics, needs, and preferences should be evaluated when considering premixed insulin for treatment of diabetes.
Funding
: Novo Nordisk, India.