01.12.2018 | Study protocol | Ausgabe 1/2018 Open Access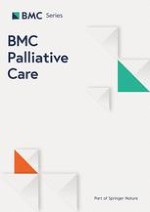 Exploring end-of-life interaction in dyads of parents and adult children: a protocol for a mixed-methods study
Zeitschrift:
Autoren:

Stephanie Stiel, Eva-Maria Stelzer, Nils Schneider, Franziska A. Herbst
Abstract
Background
A considerable number of terminally-ill adult children are outlived by at least one parent and receive palliative care prior to their death. At the same time, adult children continue to be confronted with their parents' terminal illnesses and end-of-life situations. The current study explores the specifics of dyadic interaction at the end of life between a) adult children suffering from a life-threatening disease and their parents, and b) terminally ill parents and their adult children.
Methods
This prospective observational study aims at filling the existing gap on adult child-parent interaction specifics at the end of life using an exploratory mixed-methods framework. The mixed-methods framework combines a qualitative face-to face interview and quantitative self-report questionnaires to study the topic at hand. The qualitative interview will focus on experiences, expectations, and wishes with regard to dyadic communication, information about illness and prognosis, expressed and perceived burden and support as well as caregiving role at the end of life. The questionnaires will cover socio-demographics, loneliness, attachment style, social support, and emotional closeness.
Discussion
The research group is currently adjusting a semi-structured interview guide and questionnaire instructions based on the results of a multiprofessional scientific advisory board meeting (Jan. 2018). In a next step, and prior to qualitative and quantitative data collection, the questionnaires will be piloted on patients and their family members in a palliative care setting. The main expected results are i) a description of the specifics of the interaction within and between both dyads, ii) the development of hypotheses and a theoretical framework on the specifics, similarities, and differences for both study groups, and iii) clinical conclusions on specific psychosocial care needs of both groups.
Trial registration
The study was registered prospectively in the Health Services Research Germany register (Versorgungsforschung Deutschland – Datenbank) (Registration N° VfD_Dy@EoL_17_003897; date of registration: November 22, 2017) and in the German Clinical Trials Register (Deutsches Register Klinischer Studien) (Registration N°
DRKS00013206
; date of registration: October 27, 2017). The study is visible in the International Clinical Trials Registry Platform
Search Portal of the World Health Organization
under the German Clinical Trials Register number.