20.06.2020 | Original Article | Ausgabe 4/2020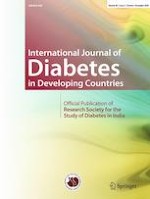 Expression analysis of microRNA-155 in type 2 diabetes in Kashmiri population
Autoren:

Misbah Majid, Akbar Masood, Shariq Rashid Masoodi, Niyaz Ahmad Naykoo, Idrees A Shah, Bushra Nissar, Nuzhat Shaheen Khan, Falaque ul Afshan, Bashir Ahmad Ganai
Wichtige Hinweise
Publisher's note
Springer Nature remains neutral with regard to jurisdictional claims in published maps and institutional affiliations.
Abstract
Purpose
The present study aimed to evaluate the expression of microRNA-155 (miR-155) in type 2 diabetes mellitus (T2DM) and assess its correlation with clinicopathological characteristics of this type.
Methods
MiR-155 expression was detected in 20 T2DM blood samples and 23 blood samples of healthy controls using fluorescent reverse transcription-quantitative polymerase chain reaction (RT-qPCR). The association between miR-155 expression and clinicopathological features was also analyzed.
Result
We found higher values of quantitative parameters like blood pressure, blood sugar levels, and weight in cases compared to controls (
p
 < 0.05). Among qualitative data we found that healthy patients were more physically active than T2DM patients (
p
 < 0.05), while family history and smoking status were almost same in cases and controls. RT-qPCR results revealed that miR-155 expression levels were significantly decreased in T2DM cases (90%). However, miR-155 expression was not significantly correlated with various clinicopathological parameters (
p
 > 0.05). We evaluated miR-155 expression between males and females; however, we found no gender-specific difference in the expression. Patients exhibiting high miR-155 expression levels were observed to have short duration of T2DM than that of patients with reduced expression of miR-155; however, this difference was not statistically significant (
p
 > 0.05).
Conclusion
The current results demonstrated that miR-155 may be involved in resistance against T2DM and may be negatively associated with clinical parameters of T2DM patients. The study was limited by its observational study design, so additional studies involving pathophysiology are required to clarify the role of miR-155 in T2DM.