01.12.2014 | Research | Ausgabe 1/2014 Open Access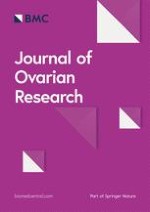 Expression and activity of Rac1 is negatively affected in the dehydroepiandrosterone induced polycystic ovary of mouse
Zeitschrift:
Autoren:

Vineet Kumar Maurya, Chadchan Sangappa, Vijay Kumar, Sahil Mahfooz, Archana Singh, Singh Rajender, Rajesh Kumar Jha
Wichtige Hinweise
Electronic supplementary material
The online version of this article (doi:
10.​1186/​1757-2215-7-32
) contains supplementary material, which is available to authorized users.
Competing interests
The authors declare that they have no competing interests.
Authors' contributions
VKM carried out PCOS model preparation and development of Rac1, pRac1, Vav and pVav immuno-blot. SC performed Western blotting of Caveolin1, Rac1, pRac1, Vav and pVav along with the 17β-estradiol assay. VK performed the Rac1 activity assay, tissue paraffin embedding and microtomy. SM did the histological examination of ovarian tissue sections and helped in manuscript drafting. AS performed the immuno-precipitation of Vav, immuno-blotting with Rac1 and Vav along with the inhibin B assay. RS assisted in drafting the manuscript and experimental design. RKJ designed, analyzed the data and finalized the manuscript. All authors read and approved the final manuscript.
Abstract
Background
Polycystic ovarian syndrome (PCOS) is characterized by the presence of multiple follicular cysts, giving rise to infertility due to anovulation. This syndrome affects about 10% of women, worldwide. The exact molecular mechanism leading to PCOS remains obscure. RhoGTPase has been associated with oogenesis, but its role in PCOS remains unexplored. Therefore, we attempted to elucidate the Vav-Rac1 signaling in PCOS mice model.
Methods
We generated a PCOS mice model by injecting dehydroepiandrosterone (DHEA) for a period of 20 days. The expression levels of Rac1, pRac1, Vav, pVav and Caveolin1 were analyzed by employing immuno-blotting and densitometry. The association between Vav and Rac1 proteins were studied by immuno-precipitation. Furthermore, we analyzed the activity of Rac1 and levels of inhibin B and 17β-estradiol in ovary using biochemical assays.
Results
The presence of multiple follicular cysts in ovary were confirmed by histology. The activity of Rac1 (GTP bound state) was significantly reduced in the PCOS ovary. Similarly, the expression levels of Rac1 and its phosphorylated form (pRac1) were decreased in PCOS in comparison to the sham ovary. The expression level and activity (phosphorylated form) of guanine nucleotide exchanger of Rac1, Vav, was moderately down-regulated. We observed comparatively increased expressions of Caveolin1, 17β-estradiol, and inhibin B in the polycystic ovary.
Conclusion
We conclude that hyperandrogenization (PCOS) by DHEA diminishes ovarian Rac1 and Vav expression and activity along with an increase in expression of Caveolin1. This is accompanied by an increase in the intra-ovarian level of '17 β-estradiol and inhibin B.