01.12.2018 | Research article | Ausgabe 1/2018 Open Access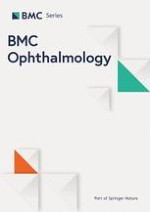 Expression of cytokines in aqueous humor from fungal keratitis patients
Zeitschrift:
Autoren:

Yingnan Zhang, Qingfeng Liang, Yang Liu, Zhiqiang Pan, Christophe Baudouin, Antoine Labbé, Qingxian Lu
Abstract
Background
Although a series of reports on corneal fungal infection have been published, studies on pathogenic mechanisms and inflammation-associated cytokines remain limited. In this study, aqueous humor samples from fungal keratitis patients were collected to examine cytokine patterns and cellular profile for the pathogenesis of fungal keratitis.
Methods
The aqueous humor samples were collected from ten patients with advanced stage fungal keratitis. Eight aqueous humor samples from patients with keratoconus or corneal dystrophy were taken as control. Approximately 100 μl to 300 μl of aqueous humor in each case were obtained for examination. The aqueous humor samples were centrifuged and the cells were stained and examined under optical microscope. Bacterial and fungal cultures were performed on the aqueous humor and corneal buttons of all patients. Cytokines related to inflammation including IL-1β, IL-6, IL-8, IL-10, TNF-α, and IFN-γ were examined using multiplex bead-based Luminex liquid protein array systems.
Results
Fungus infection was confirmed in these ten patients by smear stains and/or fungal cultures. Bacterial and fungal cultures revealed negative results in all aqueous humor specimens. Polymorphonuclear leukocytes were the predominant infiltrating cells in the aqueous humor of fungal keratitis. At the advanced stages of fungal keratitis, the levels of IL-1β, IL-6, IL-8, and IFN-γ in the aqueous humor were significantly increased when compared with control (p<0.01). The levels of IL-10 and TNF-α also showed an ascending trend but with no statistical significance.
Conclusions
High concentration of IL-1β, IL-6, IL-8, and IFN-γ in the aqueous humor was associated with fungal keratitis.