01.12.2018 | Research | Ausgabe 1/2018 Open Access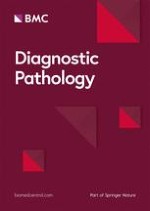 Expression of HMB45, MelanA and SOX10 is rare in non-small cell lung cancer
Zeitschrift:
Autoren:

Mark Kriegsmann, Katharina Kriegsmann, Alexander Harms, Rémi Longuespée, Christiane Zgorzelski, Jonas Leichsenring, Thomas Muley, Hauke Winter, Daniel Kazdal, Benjamin Goeppert, Arne Warth
Abstract
Background
Non-small cell lung cancer (NSCLC) and melanoma are frequent entities in routine diagnostics. Whereas the differential diagnosis is usually straight forward based on histomorphology, it can be challenging in poorly differentiated tumors as melanoma may mimic various histological patterns. Distinction of the two entities is of outmost importance as both are treated differently. HMB45 and MelanA are recommended immunohistological markers for melanoma in this scenario. SOX10 has been described as an additional marker for melanoma. However, comprehensive large-scale data about the expression of melanoma markers in NSCLC tumor tissue specimen are lacking so far.
Methods
Therefore, we analyzed the expression of these markers in 1085 NSCLC tumor tissue samples. Tissue microarrays of NSCLC cases were immunohistochemically stained for HMB45, MelanA, and SOX10. Positivity of a marker was defined as ≥1% positive tumor cells.
Results
In 1027 NSCLC tumor tissue samples all melanoma as well as conventional immunohistochemical markers for NSCLC could be evaluated. HMB45, MelanA, and SOX10 were positive in 1 (< 1%), 0 (0%) and 5 (< 1%) cases. The HMB45 positive case showed co-expression of SOX10 and was classified as large cell carcinoma. Three out of five SOX10 positive cases were SqCC and one case was an adenosquamous carcinoma.
Conclusions
Expression of HMB45, MelanA and SOX10 is evident but exceedingly rare in NSCLC cases. Together with conventional immunomarkers a respective marker panel allows a clear-cut differential diagnosis even in poorly differentiated tumors.