01.12.2016 | Short report | Ausgabe 1/2016 Open Access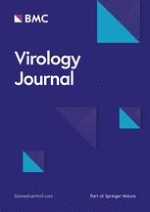 Expression of importin-α isoforms in human nasal mucosa: implication for adaptation of avian influenza A viruses to human host
Zeitschrift:
Autoren:

Khwansiri Ninpan, Ornpreya Suptawiwat, Chompunuch Boonarkart, Peerayuht Phuangphung, Sakda Sathirareuangchai, Mongkol Uiprasertkul, Prasert Auewarakul
Abstract
Background
Transportation into the host cell nucleus is crucial for replication and transcription of influenza virus. The classical nuclear import is regulated by specific cellular factor, importin-α. Seven isoforms of importin-α have been identified in human. The preference of importin-α3 of avian influenza virus and -α7 isoform of human strains during replication in human cells was previously identified. In addition, both avian and human influenza viruses were shown to use importin-α1 isoform for their replication.
Finding
The mRNA levels of importin-α1, −α3, and –α7 isoforms in human respiratory tract was determined by real-time RT-PCR. The results indicate that mRNA level of importin-α7 was significantly higher than that of importin-α1 (
p
-value < 0.0001) and importin-α3 (
p
-value < 0.0001) isoforms in human nasal mucosa while importin-α1 was detected as the highest expression importin-α isoform in lung tissues.
Conclusions
These results may explain the preference of importin-α7 isoforms in seasonal influenza viruses in human upper respiratory tract and may suggest a selective pressure toward importin-α7 in human respiratory tract infection of an avian virus.