01.03.2018 | Fertility Preservation | Ausgabe 4/2018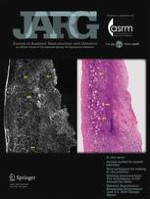 Expression of inhibitor proteins that control primordial follicle reserve decreases in cryopreserved ovaries after autotransplantation
Zeitschrift:
Autoren:

Soner Celik, Ferda Topal Celikkan, Sinan Ozkavukcu, Alp Can, Ciler Celik-Ozenci
Abstract
Purpose
Even with 86 live births reported globally so far, the mechanism of primordial follicle loss following autotransplantation of the frozen-thawed ovarian tissue needs further evaluation. Pten, Tsc1, p27, and Amh are the inhibitor proteins that play crucial roles in suppressing the transition from the primordial follicle to primary state, maintaining the primordial follicle reserve. In this study, we aimed to evaluate whether the expression patterns of these proteins change and it may be related to the global primordial follicle loss after autotransplantation of the frozen-thawed ovarian tissue.
Methods
Four groups were established in rats: fresh-control, frozen/thawed, fresh-transplanted, and frozen/thawed and transplanted. After slow freezing and thawing process, two ovarian pieces were transplanted into the back muscle of the same rat. After 2 weeks, grafts were harvested, fixed, and embedded into the paraffin block. Normal and atretic primordial/growing follicle count was performed in all groups. Ovarian tissues were evaluated for the dynamic expressions of the Pten, Tsc1, p27, and Amh proteins using immunohistochemistry, and H-score analyses were done.
Results
Ovarian tissue cryopreservation does not change the expression patterns of inhibitory proteins that control ovarian reserve. Both in fresh and frozen/thawed autotransplanted groups, the expression of inhibitory proteins and Amh decreased significantly in primordial follicles and in growing follicles, respectively. In control group and in frozen/thawed group, primordial follicle counts were similar but decreased by almost half in both fresh-transplanted and frozen/thawed and transplanted groups.
Conclusions
One of the causes of primordial follicle loss after transplantation of ovarian graft may be decreased expression of the inhibitory proteins that guard the ovarian reserve and transplantation itself seems to be the major cause for disruption of inhibitory molecular signaling. Our findings highlight important molecular aspects for future clinical applications for fertility preservation in humans.