28.08.2018 | Original Article | Ausgabe 1/2019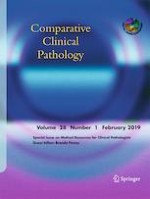 Expression of interleukin-15 in canine mammary carcinoma: relationships with histologic grades, Bcl-2, recurrence, and overall survival
Zeitschrift:
Autoren:

Massoud Rezaee Oghazi, Mohsen Maleki, Ahmad Reza Movassaghi, Zahra Kamyabi-Moghaddam
Abstract
Spontaneous tumors arising from mammary tissue are considered the most common tumor in female dogs and are of great importance both in veterinary and comparative medicine. Interleukin-15 is a cytokine involved in many physiologic processes such as activation of immune cells, autoimmune diseases, and cancer pathogenesis; however, the role of interleukin-15 in canine mammary cancers has not been well understood. We designed this study to examine the expression of interleukin-15 (IL-15) in canine mammary carcinoma by means of immunohistochemistry and any possible association with histologic malignancy grades, Bcl-2 expression, tumor recurrence, and overall survival. Results revealed that 14 (46.66%) of tumor samples strongly express IL-15, 7 cases (23.33%) moderately, and 9 cases showed weak immunoreactivity (30%). The expression of interleukin-15 is increased in canine mammary tumors in comparison to healthy tissues (
p
 < 0.05). Additionally, interleukin-15 higher expression is significantly in relationship with high histologic grade (
p
 < 0.05), high Bcl-2 expression (
p
 < 0.05), and shorter overall survival (
p
 < 0.05), but not with tumor recurrence (
p
 > 0.05). Interleukin-15 could have a role mammary carcinogenesis in dogs but more studies are needed to understand its exact roles.