01.12.2012 | Primary research | Ausgabe 1/2012 Open Access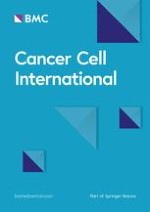 Expression of osteoprotegerin, receptor activator of nuclear factor kappa-B ligand, tumor necrosis factor-related apoptosis-inducing ligand, stromal cell-derived factor-1 and their receptors in epithelial metastatic breast cancer cell lines
Zeitschrift:
Autoren:

Vivian Labovsky, Valeria B Fernández Vallone, Leandro M Martinez, Julian Otaegui, Norma A Chasseing
Wichtige Hinweise
Electronic supplementary material
The online version of this article (doi:
10.​1186/​1475-2867-12-29
) contains supplementary material, which is available to authorized users.
Competing interests
The authors declare that they have no competing financial interests.
Authors' contributions
VL has contributed to the conception and design of the study, performed the statistical analysis, interpretation of data and drafted the manuscript. VBFV participated in the design of the study, performed the statistical analysis, drafted and revised the article. LMM cultured the cell lines, drafted and revised the article. OJ cultured the cell lines and carried out the western blot assay. ANC participated in the design of the study and in the revision of the article as well as in the final approval of the version to be submitted. All authors read and approved the final version of the manuscript.
Abstract
Background
While breast cancer (BC) is the major cause of death among women worldwide, there is no guarantee of better patient survival because many of these patients develop primarily metastases, despite efforts to detect it in its early stages. Bone metastasis is a common complication that occurs in 65-80 % of patients with disseminated disease, but the molecular basis underlying
dormancy,
dissemination and establishment of metastasis is not understood. Our objective has been to evaluate simultaneously osteoprotegerin (OPG), receptor activator of nuclear factor kappa B ligand (RANKL), tumor necrosis factor-related apoptosis-inducing ligand (TRAIL), stromal cell-derived factor-1 (SDF-1), and their receptors (R) in 2 human BC cell lines, MDA-MB-231 and MCF-7.
Methods
OPG, RANKL, TRAIL and SDF-1 expression and release, in addition to the expression of their receptors has been investigated using immunofluorescence, immunocytochemistry and ELISA analyses.
Results
MCF-7 cells released higher levels of OPG in conditioned media (CM) than MDA-MB-231 cells; 100 % of both types of cell expressed OPG, RANKL, TRAIL and SDF-1. Moreover, 100 % in both lines expressed membrane RANKL and RANK, whereas only 50 % expressed CXCR4. Furthermore, 100 % expressed TRAIL-R1 and R4, 30-50 % TRAIL-R2, and 40-55 % TRAIL-R3.
Conclusions
MCF-7 and MDA-MB-231 cells not only released OPG, but expressed RANKL, TRAIL and SDF-1. The majority of the cells also expressed RANK, CXCR4 and TRAIL-R. Since these ligands and their receptors are implicated in the regulation of proliferation, survival, migration and future bone metastasis during breast tumor progression, assessment of these molecules in tumor biopsies of BC patients could be useful in identifying patients with more aggressive tumors that are also at risk of bone metastasis, which may thus improve the available options for therapeutic intervention.