01.12.2014 | Short Report | Ausgabe 1/2014 Open Access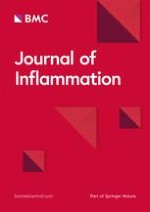 Expression of pro-inflammatory mediators is inhibited by an avocado/soybean unsaponifiables and epigallocatechin gallate combination
Zeitschrift:
Autoren:

Stacy L Ownby, Lowella V Fortuno, Angela Y Au, Mark W Grzanna, Ann M Rashmir-Raven, Carmelita G Frondoza
Wichtige Hinweise
Electronic supplementary material
The online version of this article (doi:
10.​1186/​1476-9255-11-8
) contains supplementary material, which is available to authorized users.
Competing interests
Authors listed below are current or former employees of Nutramax Laboratories Veterinary Sciences, Inc. but do not hold stocks or royalties: Carmelita G. Frondoza, Ph.D. (former), Stacy L. Ownby, M.S. (current), Lowella V. Fortuno (former), Angela Y. Au, Ph.D. (former), and Mark W. Grzanna (former). The following author does not have a conflict of interest: Ann M. Rashmir-Raven, DVM.
Authors' contributions
All authors read and approved the final manuscript. SLO performed the molecular gene expression studies, analyzed the data, and drafted the manuscript. LVF, AYA, and MWG assisted in tissue harvesting and tissue culture experiments. CGF conceived the study, designed the experiments, and edited the manuscript. AMR supplied equine joint tissue.
Abstract
Background
Osteoarthritis (OA) is characterized by inflammation, joint immobility, and pain. Non-pharmacologic agents modulating pro-inflammatory mediator expression offer considerable promise as safe and effective treatments for OA. We previously determined the anti-inflammatory effect of an avocado/soybean unsaponifiables (ASU) and epigallocatechin gallate (EGCG) combination on prostaglandin E2 (PGE2) production and nuclear factor-kappa B (NF-κB) translocation. The aim of this study was to evaluate the effects of ASU + EGCG on pro-inflammatory gene expression.
Findings
Articular chondrocytes from carpal joints of mature horses were pre-incubated for 24 hours with control media alone or ASU (8.3 μg/mL) + EGCG (40 ng/mL), followed by one hour activation with interleukin-1 beta (IL-1β, 10 ng/mL) and tumor necrosis factor-alpha (TNF-α, 1 ng/mL). Total cellular RNA was isolated and real-time PCR performed to measure IL-1β, TNF-α, interleukin-6 (IL-6), cyclooxygenase-2 (COX-2), and interleukin-8 (IL-8) gene expression. Intracellular localization of NF-κB was analyzed by immunohistochemistry and Western blot. Pre-treatment with ASU + EGCG significantly (
P
 < 0.001) decreased gene expression of IL-1β, TNF-α, IL-6, COX-2, and IL-8 in cytokine-activated chondrocytes. Western blot and immunostaining confirmed NF-κB translocation inhibition.
Conclusions
We demonstrate that ASU + EGCG inhibits cytokine-induced gene expression of IL-1β, TNF-α, IL-6, COX-2, and IL-8 through modulation of NF-κB. Our results indicate that the activity of ASU + EGCG affects a wide array of inflammatory molecules in addition to decreasing PGE2 synthesis in activated chondrocytes. The responsiveness of chondrocytes to this combination supports its potential utility for the inhibition of joint inflammation.