01.12.2017 | Research article | Ausgabe 1/2017 Open Access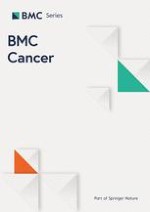 Expression of SOCS1 and the downstream targets of its putative tumor suppressor functions in prostate cancer
Zeitschrift:
Autoren:

Martin Chevrier, Diwakar Bobbala, Alberto Villalobos-Hernandez, Md Gulam Musawwir Khan, Sheela Ramanathan, Caroline Saucier, Gerardo Ferbeyre, Sameh Geha, Subburaj Ilangumaran
Wichtige Hinweise
Electronic supplementary material
The online version of this article (doi:
10.​1186/​s12885-017-3141-8
) contains supplementary material, which is available to authorized users.
Abbreviations
ISUP
International society of urological pathology
SOCS1
Suppressor of cytokine signaling 1
Background
Methods
Human prostatectomy specimens
From archived radical prostatectomy specimens received at the pathology department of the Centre hospitalier universitaire de Sherbrooke (CHUS), 175 consecutive samples collected between 2012 and 2015 were selected for this study. As the priority of this study was to evaluate tissue protein expression, and because archived specimens progressively lose antigenicity, only recent prostatectomy specimens collected between 2012 and 2015 were used. All the prostatectomy specimens were treatment-naïve. The study design also did not include serum PSA, disease outcome or patient follow-up, as only the recent prostatectomy specimens were prioritized to assess marker expression. Following approval by the Ethics committee of the Centre de Recherche du CHUS (Project #2014-734, 13–222), the patients or their families were contacted and consent was obtained from 90 patients. Among them, 12 cases were excluded due to a small tumor size of less than 5 mm in diameter, and 78 were included in this study.
Tumor grading and classification
Tumor grading and staging data from the histopathology report were verified. Tumors were re-categorized according to the recommendations of the International Society of Urological Pathology (ISUP) into 5 groups, represented by the sum value of the first and second most prevalent Gleason patterns [
32
]: group 1 (Gleason score ≤6), group 2 (Gleason score 7 = 3 + 4), group 3 (Gleason score 7 = 4 + 3), group 4 (Gleason scores 8 = 4 + 4, 3 + 5, 5 + 3) and group 5 (Gleason score 9–10) [
33
]. All 78 cases harboured prostatic acinar adenocarcinoma. Among them, four showed foamy gland features, one displayed mucinous features and two others contained a ductal adenocarcinoma component. Within the study population, lymph node dissection had been performed in 36 cases, of which only 4 (N1) showed lymph node metastasis and the rest (N0,
n =
 32) did not. The specimens were categorized into two additional groups T2 and T3 stages, respectively representing those with carcinoma confined within the prostatic capsule (organ confined) and those that have breached this confinement (extra-prostatic extension) according to the American Joint Committee on Cancer (AJCC) Staging manual (7
th
edition) [
34
].
Construction of tissue microarray (TMA)
Following a thorough review of the haematoxylin and eosin (H&E)-stained slides, the largest tumor foci representative of the Gleason score was identified and correspondingly mapped on the paraffin block using a stereomicroscope (SZ51, Olympus) for precise targeting with the TMA MASTER system (3DHISTECH Ltd, Budapest, Hungary). The areas rich in tumor cells and representing the two prominent Gleason patterns were targeted. One large 2 mm diameter core was extracted from the mapped area and the 78 tumor cores were fitted in three TMAs using the TMA MASTER system. Cores containing clearly defined transitional epithelium, normal prostatic epithelium, low-grade and high-grade prostatic intraepithelial neoplasia (PIN) served as control or reference. PIN was defined according to WHO criteria [
33
].
Immunohistochemistry
TMA sections of 4 μm thickness mounted on charged slides were deparaffinised, re-hydrated and heat-induced antigen retrieval was performed on DAKO PT Link pre-treatment module (Dako Pathology products, Mississauga, ON) using low or high pH Envision FLEX Target Retrieval Solutions (Dako). Subsequent steps were carried out on DAKO Autostainer Link. Endogenous peroxidase activity was blocked using Envision FLEX Peroxidase-blocking Reagent, followed by incubation with the primary antibodies (Ab) listed in Table
1
. The EnVision FLEX /HRP (Dako) reagent containing a dextran polymer conjugated to anti-mouse Ig and anti-rabbit Ig and HRP was used as the secondary Ab. All washing steps were carried out using the Envision FLEX wash buffer and positive staining was detected by precipitation of diaminobenzidine (DAB) using the Envision FLEX DAB+ reagent. Slides were counterstained with hematoxylin, and coverslips were mounted using the Faramount mounting medium (Dako). The images were captured using an automated slide scanner (Aperio ScanScope XT, Aperio, Vista, California), analysed and scored in a blinded manner. A semi-objective scoring method (H-score) was used to quantify the staining. H-Score was evaluated on the whole tissue core. For the various markers, only the nuclear (Ki67, p53, AR and p21), the granular cytoplasmic (Prostein, SOCS1) or the membrane (MET) staining was considered for scoring. The staining intensities were graded on the scale of 0, 1, 2 and 3, representing absent, weak, moderate and strong staining. These values were multiplied by the respective percentage of staining to obtain the H-scores ranging from 0 to 300. Thus, the H-score recognises broad ranges of antigen expression and avoids arbitrary cut-offs.
Table 1
Antibodies used in this study
| Ab | Source | | Clone | Cat# | Dilution | Incubation time (min) | pH |
| --- | --- | --- | --- | --- | --- | --- | --- |
| AR | DAKO, | Mouse mAb | AR441 | M3562 | 1/25 | 20 | 9.0 |
| Ki67 | DAKO | Mouse mAb | MIB-1 | GA626 | RTU | 20 | 6.1 |
| p21 | DAKO, | Mouse mAb | SX118 | M7202 | 1/50 | 20 | 9.0 |
| p53 | DAKO, | Mouse mAb | DO-7 | GA616 | RTU | 20 | 9.0 |
| Prostein | DAKO, | Mouse mAb | 10E3 | IR088 | RTU | 20 | 9.0 |
| MET | CST | Rabbit mAb | D1C2 | #8198 | 1/300 | 40 | 9.0 |
| SOCS1 | SCB | Rabbit polyclonal Ab | – | H-93 | 1/150 | 100 | 9.0 |
| | | | | (sc-9021) | | | |
Statistical analysis
Statistical analyses were carried out using the GraphPad Prism 6 software (GraphPad Software, San Diego, USA). The data points were tested for Gaussian distribution before performing relevant statistical analyses, as indicated in each figure. For each dataset within groups, the distribution, mean and standard deviation within the 95% confidence limits are shown. Correlation between any two parameters was evaluated by non-parametric Spearman correlation test and the correlation coefficient (ρ) and the
p
value of the correlation are indicated within each figure. The slope was generated by non-linear regression curve-fit analysis. Non-parametric Kruskal-Wallis and Mann–Whitney tests were employed for comparing multiple or two groups, respectively. Statistically significant
p
values are represented by asterisks (* ≤ 0.05, ** ≤ 0.01), or the actual values are indicated within each figure.
Results
Discussion
Conclusions
Collectively, our findings indicate that (i) evaluating SOCS1 protein expression may have a prognostic significance in PCa, however this requires development of highly specific and sensitive clinical grade antibodies, and (ii) MET and p21, which are partly regulated by SOCS1, may also be useful in identifying aggressive cancers. Clearly, prospective studies in larger cohorts are needed to evaluate these parameters as well as their correlation to resistance to androgen ablation therapy, serum biomarkers and distant metastasis in order to validate their utility as prognostic markers and, possibly as targets for personalized therapy.
Acknowledgements
Not applicable.
Funding
This work was supported by Movember Discovery Grant from Prostate Cancer Canada (Grant number D2013-20). AVH was supported by a Master's degree scholarship from the Faculty of Medicine, Université de Sherbrooke. DB is a recipient of a postdoctoral fellowship from FRQS. CRCHUS is an FRQS-funded research center.
Availability of data and materials
As no datasets were generated or analyzed during the current study, data sharing is not applicable to this article. Additional information is available upon request.
Authors' contributions
MC and SG evaluated the PCa specimens, constructed TMA, evaluated IHC staining, scored the data and contributed to finalize the manuscript. DB, AVH and MGMK carried out data analysis. SR, CS, GF and SI contributed to developing the project, data analysis and writing the manuscript. All authors have read and approved the final manuscript.
Competing interests
The authors declare that they have no competing interests.
Consent for publication
Not applicable as no individual person's data are included in this manuscript.
Ethics approval and consent to participate
This study was carried out with the approbation of the Human ethics committee at the Centre de Recherche du CHUS (Project #2014-734, 13–222), Sherbrooke, in accordance with the Declaration of Helsinki. Consent to use paraffin embedded prostate tissue specimens for the intended research documented in the current study was obtained through telephone interview from all subjects or their families with appropriate written documentation.
Open Access
This article is distributed under the terms of the Creative Commons Attribution 4.0 International License (
http://​creativecommons.​org/​licenses/​by/​4.​0/​
), which permits unrestricted use, distribution, and reproduction in any medium, provided you give appropriate credit to the original author(s) and the source, provide a link to the Creative Commons license, and indicate if changes were made. The Creative Commons Public Domain Dedication waiver (
http://​creativecommons.​org/​publicdomain/​zero/​1.​0/​
) applies to the data made available in this article, unless otherwise stated.