24.02.2019 | Original Article | Ausgabe 4/2019 Open Access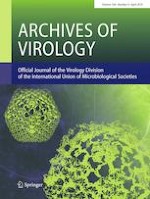 Expression profiling and regulatory network of cucumber microRNAs and their putative target genes in response to cucumber green mottle mosaic virus infection
Zeitschrift:
Autoren:

Chaoqiong Liang, Huawei Liu, Jianjun Hao, Jianqiang Li, Laixin Luo
Wichtige Hinweise
Handling Editor: F. Murilo Zerbini.
Electronic supplementary material
Publisher's Note
Springer Nature remains neutral with regard to jurisdictional claims in published maps and institutional affiliations.
Abstract
Cucumber green mottle mosaic virus (CGMMV) is an important pathogen of cucumber (
Cucumis sativus
). The molecular mechanisms mediating host-pathogen interactions are likely to be strongly influenced by microRNAs (miRNAs), which are known to regulate gene expression during the disease cycle. This study focused on 14 miRNAs (miR159, miR169, miR172, miR838, miR854, miR5658, csa-miRn1-3p, csa-miRn2-3p, csa-miRn3-3p, csa-miRn4-5p, csa-miRn5-5p, csa-miRn6-3p, csa-miRn7-5p and csa-miRn8-3p) and their target genes. The data collected was used to construct a regulatory network of miRNAs and target genes associated with cucumber-CGMMV interactions, which identified 608 potential target genes associated with all of the miRNAs except csa-miRn7-5p. Five of the miRNAs (miR159, miR838, miR854, miR5658 and csa-miRn6-3p) were found to be mutually linked by target genes, while another eight (miR169, miR172, csa-miRn1-3p, csa-miRn2-3p, csa-miRn3-3p, csa-miRn4-5p, csa-miRn5-5p and csa-miRn8-3p) formed subnetworks that did not display any connectivity with other miRNAs or their target genes. Reverse transcription quantitative real-time PCR (RT-qPCR) was used to analyze the expression levels of the different miRNAs and their putative target genes in leaf, stem and root samples of cucumber over a 42-day period after inoculation with CGMMV. A positive correlation was found between some of the miRNAs and their respective target genes, although for most, the response varied greatly depending on the time point, indicating that additional factors are likely to be involved in the interaction between cucumber miRNAs and their target genes. Several miRNAs, including miR159 and csa-miRn6-3p, were linked to target genes that have been associated with plant responses to disease. A model linking miRNAs, their targets and downstream biological processes is proposed to indicate the roles of these miRNAs in the cucumber-CGMMV pathosystem.