01.12.2017 | Research article | Ausgabe 1/2017 Open Access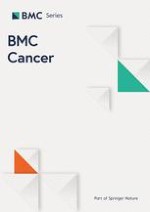 Extracellular Hsp90 and TGFβ regulate adhesion, migration and anchorage independent growth in a paired colon cancer cell line model
Zeitschrift:
Autoren:

Jo-Anne de la Mare, Tamarin Jurgens, Adrienne L. Edkins
Wichtige Hinweise
Electronic supplementary material
The online version of this article (doi:
10.​1186/​s12885-017-3190-z
) contains supplementary material, which is available to authorized users.
Abstract
Background
Tumour metastasis remains the major cause of death in cancer patients and, to date, the mechanism and signalling pathways governing this process are not completely understood. The TGF-β pathway is the most commonly mutated pathway in cancer, however its role in cancer progression is controversial as it can function as both a promoter and a suppressor of metastasis. Although previous studies have suggested a role for the molecular chaperone Hsp90 in regulating the TGF-β pathway, the level at which this occurs as well as the consequences in terms of colon cancer metastasis are unknown.
Methods
The paired SW480 and SW620 colon cancer cell lines, derived from a primary tumour and its lymph node metastasis, respectively, were used as an in vitro model to study key cellular processes required for metastasis. The status of the TGF-β pathway was examined in these cells using ELISA, flow cytometry, western blot analysis and confocal microscopy. Furthermore, the effect of addition or inhibition of the TGF-β pathway and Hsp90 on adhesion, migration and anchorage-independent growth, was determined in the cell lines.
Results
When comparing the canonical TGF-β1 pathway in the genetically paired cell lines our data suggests that this pathway may be constitutively active in the SW620 metastasis-derived cell line and not the SW480 primary tumour-derived line. In addition, we report that, when present in combination, TGF-β1 and Hsp90β stimulate anchorage-independent growth, reduce adhesion and stimulate migration. This effect is potentiated by inhibition of the TGF-β1 receptor and occurs via an alternate TGF-β1 pathway, mediated by αvβ6 integrin. Interestingly, in the SW620 cells, activation of this alternate TGF-β1 signalling machinery does not appear to require inhibition of the canonical TGF-β1 receptor, which would allow them to respond more effectively to the pro-metastasis stimulus of a combination of Hsp90β and TGF-β1 and this could account for the increased migratory capacity of these cells.
Conclusions
In this study we report an apparent synergy between TGF-β1 and Hsp90β in stimulating migratory behaviour of colon cancer cells when signalling occurs via αvβ6 integrin as opposed to the canonical TGF-β1 pathway.