01.12.2017 | Review | Ausgabe 1/2017 Open Access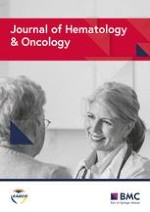 Extracellular vesicles-mediated noncoding RNAs transfer in cancer
Zeitschrift:
Autoren:

Pei Ma, Yutian Pan, Wei Li, Chongqi Sun, Jie Liu, Tongpeng Xu, Yongqian Shu
Wichtige Hinweise
Pei Ma, Yutian Pan and Wei Li are joint first author.
Abbreviations
CCNJ
Cell-cycle regulation gene cyclin J
CLL
Chronic lymphocytic leukemia
EMT
Epithelial to mesenchymal transition
FIH
Factor-inhibiting hypoxia-inducible
GRE
Glucocorticoid response elements
HBE
Human bronchial epithelial
HOTAIR
HOX antisense intergenic RNA
JAM2
Junctional adhesion molecule 2
Linc-RoR
Long intergenic nonprotein coding RNA, regulator of reprogramming
linc-VLDLR
The large intergenic noncoding RNA-VLDLR
lncARSR
lncRNA activated in RCC with sunitinib resistance
MALAT1
Metastasis-associated lung adenocarcinoma transcript 1
MET
Mesenchymal to epithelial transition
MSC
Mesenchymal stromal cells
RFXAP
Regulatory factor X-associated protein
SNAI1
Snail family zinc finger 1
TGF
Transforming growth factor
VEGF
Vascular endothelial growth factor.
Background
Conclusions
EVs, previously largely thought to function like garbage bags to remove excess or unnecessary constituents from the cells, have now been discovered to be mediators in specific cell-to-cell communication via transferring proteins, RNAs and DNAs. Exosomes are the most widely studied EVs. They can transfer information to the target cells through three main ways: receptor-ligand interaction, direct fusion with plasma membrane, and endocytosis by phagocytosis [
112
]. Amongst the components they transfer, ncRNAs have drawn the great interest of researchers since emerging evidence has suggested that EV-associated ncRNAs fulfill important functions in the regulation of gene expression and participate in the process of versatile diseases, particularly in cancer. NcRNAs derived from both cancerous cells and noncancerous cells influence on tumorigenesis, angiogenesis, metastasis, immunity, and drug resistance through diverse mechanisms. However, an outstanding question remains as to whether EV-associated ncRNAs actually function in vivo and more research utilizing convenient in vivo model systems are needed as a result. Further studies will likely also focus on the potential role of EV-associated ncRNAs as hopeful diagnostic biomarkers and novel treatment modalities, which will contribute to the health of human beings.
Acknowledgements
Not applicable.
Funding
This work was supported by grants from the National Natural Science Foundation of China (No. 81672896; NO. 81272532), the Jiangsu Province Clinical Science and Technology Projects (Clinical Research Center, BL2012008), and the Priority Academic Program Development of Jiangsu Higher Education Institutions (JX10231801).
Availability of data and materials
The material supporting the conclusion of this review has been included within the article.
Authors' contributions
YS and PM designed the research. YP and PM drafted the manuscript. WL critically revised the manuscript. CS, JL, and TX discussed and revised the manuscript. All authors read and approved final manuscript.
Competing interests
The authors declare that they have no competing interests.
Consent for publication
Not applicable.
Ethics approval and consent to participate
Not applicable.
Open Access
This article is distributed under the terms of the Creative Commons Attribution 4.0 International License (
http://​creativecommons.​org/​licenses/​by/​4.​0/​
), which permits unrestricted use, distribution, and reproduction in any medium, provided you give appropriate credit to the original author(s) and the source, provide a link to the Creative Commons license, and indicate if changes were made. The Creative Commons Public Domain Dedication waiver (
http://​creativecommons.​org/​publicdomain/​zero/​1.​0/​
) applies to the data made available in this article, unless otherwise stated.