01.12.2018 | Case report | Ausgabe 1/2018 Open Access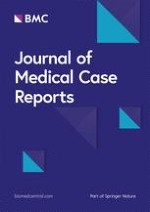 Extracorporeal membrane oxygenation support in a newborn with lower urinary tract obstruction and pulmonary hypoplasia: a case report
Zeitschrift:
Autoren:

Eva Gatzweiler, Bernd Hoppe, Oliver Dewald, Christoph Berg, Andreas Müller, Heiko Reutter, Florian Kipfmueller
Abstract
Background
Survival of neonates with intrauterine renal insufficiency and oligo- or anhydramnios correlates with the severity of secondary pulmonary hypoplasia. Early prenatal diagnosis together with repetitive amnioinfusions and modern intensive care treatment have improved the prognosis of these neonates. Extracorporeal membrane oxygenation is an established treatment option, mainly applied to neonates with pulmonary hypoplasia caused by congenital diaphragmatic hernia. However, a few case reports of extracorporeal membrane oxygenation in neonates with lower urinary tract obstruction have been published.
Case presentation
We describe a case of a Caucasian male infant with prenatally diagnosed lower urinary tract obstruction and secondary pulmonary hypoplasia who was delivered spontaneously at 36 + 2 weeks of gestation. Venovenous extracorporeal membrane oxygenation was initiated on the first day of life for severe respiratory failure and consecutive hypoxemia despite treatment with inhaled nitric oxide and high-frequency oscillation. The patient was supported by extracorporeal membrane oxygenation for 10 days and extubated 6 weeks later. Hemofiltration was required on the second day of life because of renal insufficiency and was later replaced by peritoneal dialysis. The child was discharged after 4 months with nasal high-flow mild oxygen therapy and peritoneal dialysis.
Conclusion
Neonatal extracorporeal membrane oxygenation support is a possible treatment option for neonates with lower urinary tract obstruction and pulmonary hypoplasia.