01.12.2015 | Research article | Ausgabe 1/2015 Open Access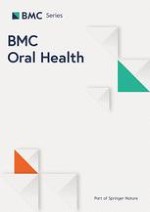 Extrinsic tooth staining potential of high dose and sustained release iron syrups on primary teeth
Zeitschrift:
Autoren:

Sharat Chandra Pani, Fahad Murdhi Alenazi, Abdullah Muhammad Alotain, Hamad Daher Alanazi, Abdullah Saeed Alasmari
Wichtige Hinweise
Electronic supplementary material
The online version of this article (doi:
10.​1186/​s12903-015-0072-0
) contains supplementary material, which is available to authorized users.
Competing interests
The authors declare that they have no competing interests.
Authors' contributions
SCP desinged the study and conducted the statistical analysis, FMA, AMA, HDA and ASA, prepared the samples and obtained the spectrophotometric readings. All authors contributed towards the preparation of this manuscript. All authors read and approved the final manuscript.
Abstract
Background
Iron in the form of oral supplements is routinely prescribed to children to help fight anemia, however tooth staining is a commonly reported complication. This study tests in vitro, the staining potential of two different forms of iron syrup on primary teeth.
Methods
Forty caries free primary central incisors were divided into four groups of ten teeth each. The control group comprised of ten teeth immersed in artificial saliva, while the test solutions were comprised of different forms of iron mixed with vitamins such that the iron content of each solution was approximately 100 mg (from 100 to 101.1 mg). The test solutions used iron syrup (Ferrose®, SPIMACO, Jeddah, Saudi Arabia) with iron in the form of ferric oxide polymaltose (FOP), slow release formula (Ferroglobin®, Vitabiotics ltd., London, UK) containing ferrous fumarate (FF and a combination of the two (FOP + FF). All the teeth were then immersed for 72 h and subjected to a protocol developed by Lee et al. to test staining. Color changes were measured using a wave dispersion spectro-photometer (Color-Eye 7000A, X-Rite Gmbh, Regensdorf, Switzerland) on the exposed labial surface at 4, 8, 24, 48 and 72 h. Two-way ANOVA with Scheffe's post hoc test was used to determine significance of difference in shade, while the Kurskull-Wallis test used to determine the significance of difference in clinical staining (∆E > 3).
Results
While all three iron groups showed some amount of staining, the combination of the two forms of iron (FOP+FF) showed significantly lower incidence of clinical staining than the other two groups at the end of 72 h. At the end of 72 h the (FOP) had significantly higher ∆E than ferrrous fumarate (FF ) while the combination (FOP+ FF) had a significantly lower ∆E than either group.
Conclusion
In an in vitro model, combining different forms of iron seems to elicit a lower intensity of staining than equivalent doses of a single form of iron.