01.12.2018 | Research | Ausgabe 1/2018 Open Access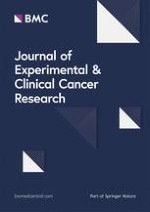 EZH2 promotes hepatocellular carcinoma progression through modulating miR-22/galectin-9 axis
Zeitschrift:
Autoren:

Shaofei Chen, Jiarui Pu, Jie Bai, Yuping Yin, Ke Wu, Jiliang Wang, Xiaoming Shuai, Jinbo Gao, Kaixiong Tao, Guobin Wang, Hang Li
Wichtige Hinweise
Electronic supplementary material
Abstract
Background
Recent studies have shown that interferon-γ (IFN-γ)-induced galectin-9 expression in Kupffer cells plays an essential role in modulatingthe microenvironment of hepatitis-associated hepatocellular carcinoma (HCC). However, whether or not IFN-γ induces galectin-9 expression in HCC cells, its biological role and regulatory mechanism in HCC development and progression are poorly defined.
Methods
Quantitative PCR and western blotting analysis were used to detect galectin-9 and EZH2 levels in HCC cell lines stimulated with IFN-γ. Bioinformatics analysis and luciferase reporter assay were utilized to confirmthe binding ofmiR-22 to the 3′ untranslated region (3'-UTR) of galectin-9. The methylation status of miR-22 promoter was analyzed by MSP (Methylation specific PCR) and BSP (bisulfite sequencing PCR), while chromatin immunoprecipitation (ChIP) assay identify the occupation status of EZH2 and H3K27me3 at the promoter. Furthermore, the effect of ectopic expression of galectin-9 and miR-22 on cell proliferation, migration, invasion and cell apoptosis was assessed by using CCK-8, transwell assays and flow cytometric analysis, respectively.
Results
IFN-γ induces up-regulation of galectin-9 and EZH2 in HCC cell lines. Galectin-9 is a target of miR-22 and EZH2 facilitates galectin-9 expression by tri-methylation of H3K27 on miR-22 promoter but not hyper-methylation status of DNA. MiR-22 overexpression suppressed HCC cell growth, invasion, and metastasis both in vitro and in vivo. Interestingly, galectin-9 also exhibited antitumor effects, and restoring galectin-9 expression in miR-22 overexpressing cells strengthened its antitumor effects.
Conclusions
These findings indicated that EZH2 facilitates galectin-9 expression by epigenetically repressing miR-22 and that galectin-9, which is known as an immunosuppressant, also functions as a tumor suppressor in HCC.