01.12.2017 | Brief Report | Ausgabe 6/2017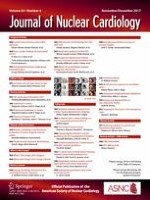 F-18 sodium fluoride PET/CT does not effectively image myocardial inflammation due to suspected cardiac sarcoidosis
Zeitschrift:
Autoren:

MD, PhD Richard L. Weinberg, MPH Rachelle Morgenstern, MD, MSc Albert DeLuca, MD Jennifer Chen, MD Sabahat Bokhari
Abstract
Background
Sarcoidosis is an inflammatory disorder of unknown etiology that can involve the heart. While effective in imaging cardiac sarcoidosis, F-18 fluorodeoxyglucose (FDG) PET/CT often shows non-specific myocardial uptake. F-18 sodium fluoride (NaF) has been used to image inflammation in coronary artery plaques and has low background myocardial uptake. Here, we evaluated whether F-18 NaF can image myocardial inflammation due to clinically suspected cardiac sarcoidosis.
Patients and Methods
We performed a single institution pilot study testing if F-18 NaF PET/CT can detect myocardial inflammation in patients with suspected cardiac sarcoidosis. Patients underwent cardiac PET/CT with F-18 FDG as part of their routine care and subsequently received an F-18 NaF PET/CT scan.
Results
Three patients underwent F-18 FDG and F-18 NaF imaging. In all patients, there was F-18 FDG uptake consistent with cardiac sarcoidosis. The F-18 NaF PET/CT scans showed no myocardial uptake.
Conclusions
In this small preliminary study, PET/CT scan using F-18 NaF does not appear to detect myocardial inflammation caused by suspected cardiac sarcoidosis.