29.10.2018 | Case Report - Tumor - Schwannoma | Ausgabe 12/2018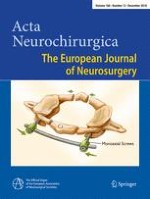 Facial nerve schwannomas presenting with vestibular dysfunction: a case series
Zeitschrift:
Autoren:

Niels West, Hjalte Sass, Martin Nue Møller, Per Cayé-Thomasen
Wichtige Hinweise
The contents of this paper have not been published previously.
This article is part of the Topical Collection on
Tumor - Schwannoma
Comments
This study is interesting in highlighting vestibular function of facial nerve schwannomas located in the CPA. The authors describe their experience of three cases of facial nerve schwannomas with vestibular dysfunction as assessed by caloric test, VHIT, and VEMPs. Facial nerve schwannoma is a very rare disease, and preoperative evaluation of vestibular function of facial nerve schwannoma is rarely reported. All tumors were incompletely resected via a translabyrinthine approach, and facial nerve function was preserved in two cases and worsened in one case. They conclude that vestibular function should be evaluated in all cases of facial nerve schwannoma, and a retrolabyrinthine or retrosigmoidal surgical approach is preferred to preserve the labyrinth in case of unaffected vestibular function.
Facial schwannomas that involve only the CPA and/or internal auditory meatus, without extension to the labyrinthine, tympanic, or mastoid segments, can be mistaken for vestibular schwannomas. Vestibular dysfunction located in the CPA can occur due to compression of the vestibular nerves within the internal auditory canal or brainstem. Because of their complex issues, patient factors including age, comorbidities, patient personality, and audiovestibular function, as well as disease factors including size and location of tumor, presence of compression of surrounding structures, degree of facial movement, duration of the lesion, and growth rate should also be considered in management of facial nerve schwannomas.
Hiroki Morisako, Takeo Goto, Kenji Ohata
Osaka, Japan
Abstract
Facial nerve schwannomas (FS) can symptomatically mimic vestibular schwannomas (VS). In addition, FS can be difficult to distinguish from VS on magnetic resonance imaging (MRI). Although disequilibrium is not uncommon in patients with FS, no previous studies have investigated the vestibular function in such patients. Three cases of FS presented vestibular dysfunction as measured with caloric test, video head impulse test (VHIT), and vestibular evoked myogenic potentials (VEMPs). All patients in this study had a considerable affection of the vestibular function as assessed by the vestibular test panel. Audiovestibular evaluation of FS provides important information that may influence treatment strategy. As VS, FS should be evaluated with vestibular tests prior to intervention.