01.12.2013 | Review | Ausgabe 1/2013 Open Access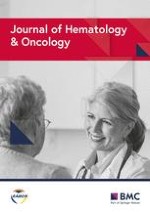 Fact or fiction - identifying the elusive multiple myeloma stem cell
Zeitschrift:
Autoren:

Joshua Kellner, Bei Liu, Yubin Kang, Zihai Li
Wichtige Hinweise
Electronic supplementary material
The online version of this article (doi:
10.​1186/​1756-8722-6-91
) contains supplementary material, which is available to authorized users.
Competing interest
The authors declare that they have no competing interest.
Authors' contributions
All authors wrote, read and approved the final manuscript.
Background
Stem cells are classified as cells that are pluripotent and can propagate the cells of a specific lineage while also maintaining self-renewal. Recent evidence has suggested that cancer has exploited this unique machinery and contains a stem-like population that maintains and propagates disease. The current paradigm regarding the cancer stem cell (CSC) is that the tumor either arises from a normal stem cell or inherently contains a "tumor" stem cell that drives tumor formation. However, it is debatable if these paradigms can apply to all cancers or if they are unique to several specific cancer types. Two initial studies laid claim to the hypothesis of CSCs. Bergsagel
et al
. characterized a low frequency population with tumorigenicity in a plasma cell tumor model of inflammation which led to studies where murine myeloma cells, isolated from ascites, could form
in
-
vitro
colonies at a ratio of only 1 in 10,000 to 1 in 100 cells [
1
,
2
]. Various solid tumors, such as lung and ovarian cancer, also exhibited a high degree of tumor-initiating heterogeneity with only a small subset of the tumor population exhibiting clonogenic potential [
3
]. The development of an
in vitro
assay to study human myeloma clonogenic cells furthered the work delving into the hypothesis of a progenitor cancer cell [
4
]. However, it was the work from Dick and colleagues who identified a CSC from a specific subset of acute myelogenous leukemia (AML) cells that had demonstrated the clonogenic activity of a particular isolated population with confidence [
5
]. This minute population, demonstrating a varied frequency of about 0.2% in some patients, was capable of transfer disease into immunodeficient NOD/SCID mice. These studies suggest the presence of a CSC but it is difficult to determine whether they are generated from a mutational hit on normal stem cells or from a specific primitive tumor stem cell. The ability to isolate primitive hematopoietic stem cells (HSC) and our understanding of the stem-like mechanisms of HSCs has enabled better understanding of CSCs in leukemias but has proven to be more difficult in myeloma.
Pathology of disease
MM is an incurable blood malignancy characterized by extensive proliferation of plasma cells (PC) and displaying an incidence of about 20,000 annually in the United States [
6
]. The tumorigenic PCs secrete monoclonal immunoglobulin and induce a wide range of pathology including lytic bone disease, hypercalcemia, immunodeficiency, anemia and kidney and bone marrow (BM) dysfunction [
7
]. Nearly all MM patients derive from asymptomatic monoclonal gammopathy of undetermined significance (MGUS). Patients could present as smoldering MM phase that then progresses to advanced symptomatic phases of MM, which include an active, relapsing and refractory periods [
8
]. Various treatments for MM have been developed including corticosteroids, DNA alkylating agents, immune-modifying drugs, proteasome inhibitors and hematopoietic stem cell transplantation (SCT). Over the last decade, the overall survival of MM patients has improved from a median of 3–4 years to currently at 5–7 years, largely due to the use of several highly active chemoagents and the incorporation of autologous HSC transplantation. However, almost all MM patients will relapse [
9
]. This high relapse rate in MM patients has suggested the possibility of a CSC that can drive disease progression.
Evidence for the multiple myeloma stem cell
Recurrence and disease progression
Conclusion
Many studies have looked into the hypothesis of the MMSC with regard to disease relapse of MM, however with little success. The most significant problem is the difficulty to definitely isolate the MMSC to study the unique biology of this cell type. Until this occurs, researchers are left trying to understand the progression of myeloma without knowledge of the start. Though the complexities of specific translocations and mutations in the genetic structure of B cells contribute to the tumorigenic nature of the MMSC, the cell must reside in a hospitable niche, to sustain long-term survival. Understanding the interaction of the MMSC with the surrounding BM microenvironment will enable us to ascertain the required elements for MMSC maintenance and avoidance from therapies. Furthermore, the evasion from immunosurveillance needs to be better studied to comprehend potential ways of targeting the cell. Interestingly, there are many similarities between the HSC and MMSC concerning extracellular and intracellular receptors and signaling. The understanding we have on the complexities required for self-renewal and maintenance of the HSC in the BM could be applied to the MMSC to potentially identify and eradicate the cancer stem cell from the BM environment. Utilizing human cell products and transferring them into mice does not allow for efficient studying of the host microenvironment, particularly related to the roles of immune system in either controlling or later promoting MM. Studies delving into isolating potential tumorigenic populations in syngeneic but humanized mouse models would provide valuable information to study the role of myeloma disease progression, and put into rest the elusive question of the existence of MMSC.
Competing interest
The authors declare that they have no competing interest.
Authors' contributions
All authors wrote, read and approved the final manuscript.