01.12.2015 | Research article | Ausgabe 1/2015 Open Access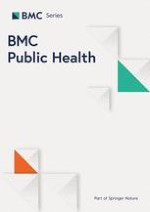 Factors affecting attendance to cervical cancer screening among women in the Paracentral Region of El Salvador: a nested study within the CAPE HPV screening program
Zeitschrift:
Autoren:

Karla M. Alfaro, Julia C. Gage, Alan J. Rosenbaum, Lauren R. Ditzian, Mauricio Maza, Isabel C. Scarinci, Esmeralda Miranda, Sofia Villalta, Juan C. Felix, Philip E. Castle, Miriam L. Cremer
Wichtige Hinweise
Competing interests
The authors declare that they have no competing interests.
Authors' contributions
KA, JG, and AR conceptualized the study with the contribution of MC and LD, partnering with MM, IS, EM, SV, JF, and PC and their respective facilities. MM, KA, AR, MC, and LD carried out the portions of the study that took place in El Salvador. Analysis of data was done with the expertise of MC, MM, KA, JG, JF, and PC. IS, JF, and PC contributed knowledge and input within their respective specialties regarding Preventive Medicine, cancer research, and Pathology. EM and SV facilitated the creation of partnerships with the MOH in El Salvador, aiding in the implementation of the initiatives utilized in this study. AR wrote the first draft of the manuscript. All authors, with final approval and submission by MC, reviewed and edited all subsequent drafts of the manuscript. Each author participated sufficiently in the work and made substantial intellectual contributions to this study.
Abstract
Background
Cervical cancer is the third most commonly occurring cancer among women and the fourth leading cause of cancer-related deaths in women worldwide, with more than 85 % of these cases occurring in developing countries. These global disparities reflect the differences in cervical cancer screening rates between high-income and medium- and low-income countries. At 19 %, El Salvador has the lowest reported screening coverage of all Latin American countries. The purpose of this study is to identify factors affecting public sector HPV DNA-based cervical cancer screening participation in El Salvador.
Methods
This study was nested within a public sector screening program where health promoters used door-to-door outreach to recruit women aged 30–49 years to attend educational sessions about HPV screening. A subgroup of these participants was chosen randomly and questioned about demographic factors, healthcare utilization, previous cervical cancer screening, and HPV knowledge. Women then scheduled screening appointments at their public health clinics. Screening participants were adherent if they attended their scheduled appointment or rescheduled and were screened within 6 months. The association between non-adherence and demographic variables, medical history, history of cancer, sexual history, birth control methods, and screening barriers was assessed using Chi-square tests of significance and logistic regression.
Results
All women (
n
 = 409) enrolled in the study scheduled HPV screening appointments, and 88 % attended. Non-adherence was associated with a higher number of lifetime partners and being under-screened—defined as not having participated in cervical cancer screening within the previous 3 years (
p
 = 0.03 and
p
 = 0.04, respectively); 22.8 % of participants in this study were under-screened.
Conclusions
Adherence to cervical cancer screening after educational sessions was higher than expected, in part due to interactions with the community-based health promoters as well as the educational session itself. More effective recruitment methods targeted toward under-screened women are required.