06.04.2016 | Original Article | Ausgabe 4/2016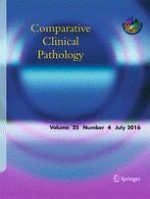 Factors affecting the molluscicidal activity of
Asparagus densiflorus

and

Oreopanax guatemalensis

plants and Difenoconazole fungicide on

Biomphalaria alexandrina

snails
Zeitschrift:
Autoren:

Fatma A. A. El-Deeb, Mohamed-Assem S. Marie, Wafaa S. Hasheesh, Sara S. M. Sayed
Abstract
Many factors may enhance or suppress the molluscicidal activity regardless of their origin. The present study aims to determine the molluscicidal activity of two plants, namely
Asparagus densiflorus
and
Oreopanax guatemalensis
besides, Difenoconazole fungicide against
Biomphalaria alexandrina
snails, miracidia and cercariae. The most effective agent was Difenoconazole followed by
A. densiflorus
and
O. guatemalensis
against
B. alexandrina
snails, where the LC
90
values after 24 h of exposure reached 2.5, 102, and 188 ppm, respectively. Toxicity of tested agents was more pronounced at high temperatures.
A. densiflorus
and Difenoconazole showed no changes in their activities after their exposure to sunlight for 6 h. Also, neutral and acidic media were favorable for maintaining their toxic action. The presence of aquatic plants, mud particles, and storage period had negative effects on the activities of the tested agents. Both
A. densiflorus
and Difenoconazole had a fast effect against miracidia and cercariae of
Schistosoma mansoni
after 3 h of the exposure. Moreover, the tested agents recorded adverse impact on the total reproductive rate of exposed snails. Such effects were supported by histopathological examinations of the hermaphrodite gland. It showed an abnormal necrosis in male and female gametogenic cells, besides a decrease in the number of ova and other gametogenic stages.