01.12.2014 | Original Article | Ausgabe 6/2014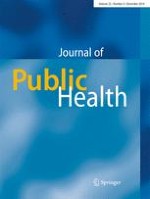 Factors associated with health insurance coverage and health insurance knowledge among Congolese immigrants and African-Americans in Illinois
Zeitschrift:
Autoren:

Daudet Ilunga Tshiswaka, Guy-Lucien S. Whembolua, Donaldson Conserve, Muswamba Mwamba
Abstract
Aim
The disproportionately high rates of adverse health outcomes among the African-American community represent an important issue in the US. Moreover, previous research has shown substantial racial disparities in US health insurance status due to factors such as unemployment, lack of education, and poverty. However, the role of immigrant status within the Black community in understanding such disparities has not been well studied. The objective of this study was to assess factors associated with health insurance status and health insurance knowledge among Congolese immigrants and African-Americans in a micro-urban area of the Midwest.
Subjects and methods
A cross-sectional survey of a community-based sample was conducted among Black residents (Congolese immigrants and African-Americans). A sample size of 109 people was obtained out of which fifty-five Congolese and fifty-four African-Americans were recruited.
Results
For Congolese, the length of stay in the US was statistically related to health insurance status; the shorter they have been in the country, the more likely they had coverage (
p
 < .005). Limited English proficiency and high insurance premiums were identified as barriers to health care access among Congolese and African-Americans, respectively.
Conclusion
The results highlight the heterogeneity of Black community. Understanding how ethnicity affects health behaviors such as health insurance coverage remains a topic for further research.