01.12.2018 | Research article | Ausgabe 1/2018 Open Access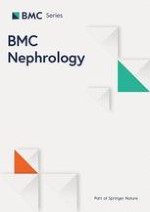 Factors associated with Health-Related Quality of Life in Kidney Transplant Recipients in France
Zeitschrift:
Autoren:

Yosra Mouelhi, Elisabeth Jouve, Marine Alessandrini, Nathalie Pedinielli, Valérie Moal, Aurélie Meurette, Elisabeth Cassuto, Georges Mourad, Antoine Durrbach, Bertrand Dussol, Stéphanie Gentile
Abstract
Background
Health-Related Quality of Life (HRQoL) assessment after kidney transplantation has become an important tool in evaluating outcomes. This study aims to identify the associated factors with HRQoL among a representative sample size of Kidney Transplant Recipients (KTR) at the time of their inclusion in the study.
Methods
Data of this cross-sectional design is retrieved from a longitudinal study conducted in five French kidney transplant centers in 2011, and included KTR aged 18 years with a functioning graft for at least 1 year. Measures include demographic, psycho-social and clinical characteristics. To evaluate HRQoL, the Short Form-36 Health Survey (SF-36) and a HRQoL instrument for KTR (ReTransQol) were administered. Multivariate linear regression models were performed.
Results
A total of 1424 patients were included, with 61.4% males, and a mean age of 55.7 years (±13.1). Demographic and clinical characteristics were associated with low HRQoL scores for both questionnaires. New variables were found in our study: perceived poor social support and being treated by antidepressants were associated with low scores of Quality of Life (QoL), while internet access was associated with high QoL scores.
Conclusion
The originality of our study's findings was that psycho-social variables, particularly KTR treated by antidepressants and having felt unmet needs for any social support, have a negative effect on their QoL. It may be useful to organize a psychological support specifically adapted for patients after kidney transplantation.