01.07.2010 | Original Article | Ausgabe 7/2010 Open Access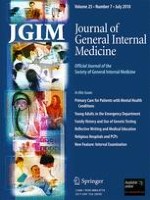 Factors Associated with Hepatitis B Testing Among Vietnamese Americans
Zeitschrift:
Autoren:

MD Tung T. Nguyen, MD Stephen J. McPhee, PhD Susan Stewart, PhD Ginny Gildengorin, PhD Lena Zhang, BS Ching Wong, DrPH Annette E. Maxwell, PhD Roshan Bastani, MD, MPH Vicky M. Taylor, PhD, MPH Moon S. Chen Jr
Wichtige Hinweise
The preparation of this paper was funded in part through grants from the National Cancer Institute Center to Reduce Cancer Health Disparities (U01 CA 114640) and P01 CA109091-01A1 funded jointly by the National Cancer Institute and the National Center on Minority Health and Health Disparities.
INTRODUCTION
METHODS
Study Design
A population-based telephone survey was conducted in 2007-2008. Using a list of 55 Vietnamese surnames, an established method to obtain a representative sample of this population,
18
-
20
a simple random sample of 10,150 numbers in telephone directories in Northern California and the Greater Washington, DC metropolitan areas was compiled. Survey eligibility criteria included: age 18 to 64, resident of either area, able to respond in Vietnamese or English, and self-identified as Vietnamese, Vietnamese American, or Chinese-Vietnamese. The Institutional Review Boards of the University of California, San Francisco and San Francisco State University (SFSU) approved the study protocols.
Response and Cooperation Rates
To assess eligibility, each number was called up to 15 times from 10 AM–9 PM Mondays-Saturdays. For each eligible number, unless there was a refusal, up to 33 calls were attempted in order to complete a survey. Of the 10,150 numbers, 3,139 (30.9%) were not eligible (11.3% non-working numbers, 5.5% not ethnically eligible, 5.5% not age eligible, 3.6% not language eligible, 4.1% business/government numbers, and 0.9% not in study area/other); 2,535 (25.0%) could not be assessed for eligibility (18.0% despite maximum number of call attempts, 5.7% hard refusals, and 1.3% on "never call" lists). There were 4,476 (44.1%) eligible numbers, among which 998 (9.8%) refused to participate, 1,774 (17.5%) neither refused nor completed survey while not at the maximum call attempts, and 1,704 (16.8%) completed the survey. The rates were similar for Northern California and Washington D.C., except that Washington D.C. had more telephone numbers that could not be assessed for eligibility despite 15 call attempts (1,529 vs. 295) while Northern California had more eligible households that neither refused nor completed the survey while not at the maximum call attempt (1,596 vs. 178).
The overall cooperation rate (number of completed interviews divided by number of eligibles and excluding those eligible but unable to be reached) was 63.1% (65.5% for Northern California and 60.7% for DC). Using the American Association for Public Opinion Research Response Rate 4 formula,
21
the response rates were 27.4% overall, 25.8% for Northern California, and 29.3% for DC.
Survey Development and Administration
A 24-minute computer-assisted telephone interviewing (CATI) survey was developed in English by using previously tested instruments along with research team and focus group input. The survey was translated into Vietnamese, back-translated into English, and pilot-tested with 26 participants. Between October 2007 and February 2008, 18 bilingual interviewers at the Public Research Institute at San Francisco State University administered the final survey in the respondent's language of choice (Vietnamese or English). Interviewers were trained to conduct the structured CATI survey in a standardized manner; they could call either region at any time and were monitored randomly for quality control.
Survey Measures and Variables
Measures were developed using the Health Behavior Framework (HBF), which represents a synthesis of some of the major theoretical formulations in the area of health behavior.
22
,
23
Demographic factors included: geographic area, age, sex, highest level of education, annual household income, employment, marital status, birthplace, years in the US, and how well the respondent spoke Vietnamese. Birthplace was combined with length of US residence due to the small number (2.3%) who were born in the US, who were then categorized as having lived in the US for >10 years. Health and health care variables included: family history of hepatitis B, having a regular physician, ethnicity of regular physician, and health insurance status.
Individual HBF constructs included knowledge, beliefs, and communication regarding HBV testing. Eight questions concerned knowledge of HBV transmission: three incorrect modes (smoking cigarettes; sharing food, drink, or eating utensils; sneezing or coughing) and four correct modes (sexual intercourse; sharing or reusing needles; during childbirth; sharing toothbrushes), as well as the fact that an infected person who looks and feels healthy could spread the disease. The "transmission knowledge" score consisted of the number of correct answers (range 0–8). Perceived severity questions asked whether respondents thought that persons with HBV could be infected for life, if HBV could cause cancer, if someone could die from HBV, and if HBV could be treated. Stigma, a cultural factor, was measured by asking if people avoided HBV-infected persons. Questions about communication with others asked whether respondents had discussed HBV with their friends or family, if their physician had recommended they be tested, if their employer had asked they be tested, and if the respondent had asked to be tested. The outcome measure of hepatitis B test receipt was defined as a "Yes" response to: "Have you ever had a blood test to check for hepatitis B?"
Statistical Analysis
First, the two geographic areas were compared regarding all variables specified above using t-tests for continuous variables and chi-square tests for categorical variables. Then, a logistic regression model was employed to assess the relative contribution of HBF constructs in explaining variation in test receipt. The independent variables included: demographics and health care variables; transmission knowledge score, perceived severity, cultural factors, and hepatitis B-related communication with others. Initially both English and Vietnamese fluency were included as covariates, but English fluency was dropped from the models because it was not associated with test receipt. Statistical significance was assessed at the 0.05 level. Data were analyzed using SAS version 9.2 (SAS Institute, 2007).
RESULTS
Only 26.5% had been vaccinated against hepatitis B. Most (91.8%) believed that hepatitis B can be fatal. Few (14.6%) believed that it was untreatable, and 38.7% thought that people avoided those infected with hepatitis B. Half (52.7%) knew that HBV infection could be lifelong, and most knew that it could cause cancer (81.1%). Knowledge about some correct modes of transmission was moderate to high: 84.6% knew about sharing needles; 68.2%, about sharing toothbrushes; and 77%, about childbirth. However, only 54.3% knew about sexual intercourse as a mode of transmission. Knowledge about the incorrect modes of transmission was less, with 46.7% knowing that HBV was not acquired by smoking cigarettes, 47.8%, not from someone who sneezes, and 32.8%, not from sharing food or eating utensils. Two-thirds (68.8%) knew that someone who appeared healthy could transmit HBV. The mean knowledge score (range 0-8) was 4.8 (SD = 1.7). Approximately 45% reported having discussed hepatitis B with their family members or friends, 40% reported their physicians recommended testing, and 36% reported asking their physicians for testing.
Northern California respondents were more likely than DC respondents to report having had a family history of HBV (20.6% vs. 14.8%, p < 0.01) and having had a hepatitis B test (65.3% vs. 57.7%, p < 0.01) but not for hepatitis B vaccination (26.9% vs. 26.0%, p = 0.75). There were no differences in beliefs and knowledge, except Northern California respondents were slightly more likely to think that people avoided those who had hepatitis B (41.1% vs. 36.3%, p = 0.04) and less likely to know that HBV cannot be transmitted by smoking cigarettes (43.6% vs. 49.8%, p = 0.01). More Northern California than DC respondents reported that their physicians had recommended testing (44.9% vs. 35.8%, p < 0.01), and that they had asked their physicians for testing (39.4% vs. 33.0%, p < 0.01).
One belief about HBV was associated with testing—those who believed that people could die from HBV were less likely to have been tested (OR 0.47, CI 0.30, 0.75). Knowledge variables were not associated with testing; transmission knowledge score had a borderline significant association (OR 1.05, CI 0.97, 1.14). In an exploratory model that did not include the communication variables (data not shown), transmission knowledge score was associated with testing (OR 1.15, CI 1.07, 1.23). When we added the communication variables successively, the transmission knowledge score remained significant until respondent request for hepatitis B testing was added.
DISCUSSION
This study shows that the rate of self-reported hepatitis B testing among Vietnamese Americans is low at 62%. Factors related to lack of testing in multivariable analysis included living in the DC area, age 30–49 years, having lived in the US for >10 years, speaking Vietnamese less than fluently, having a lower household income, and thinking that HBV can be deadly. Factors most strongly associated with testing were physician recommendation and respondent request for it.
Acknowledgement
The preparation of this paper was funded in part through grants from the National Cancer Institute Center to Reduce Cancer Health Disparities (U01 CA 114640) and P01 CA109091-01A1 funded jointly by the National Cancer Institute and the National Center on Minority Health and Health Disparities. The contents of this article are solely the responsibility of the authors and do not necessarily represent the official views of the funding agencies.
Conflict of Interest
There is no conflict of interest reported by any of the authors.
Open Access
This article is distributed under the terms of the Creative Commons Attribution Noncommercial License which permits any noncommercial use, distribution, and reproduction in any medium, provided the original author(s) and source are credited.