01.12.2018 | Research article | Ausgabe 1/2018 Open Access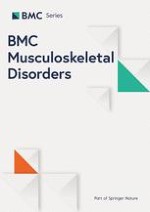 Factors associated with the prevalence of back pain and work absence in shipyard workers
Zeitschrift:
Autoren:

Seiji Watanabe, Toshiaki Takahashi, Jun Takeba, Hiromasa Miura
Abstract
Background
We conducted a questionnaire survey of shipyard workers to identify difficulties experienced due to orthopedic or musculoskeletal disorders.
Methods
The subjects were 375 workers (male, 361; female, 14) who worked for a single shipbuilding company. Questionnaire items covered the working environment, including work environment, working posture, and the weight of objects that the subject dealt with, as well as physical and lifestyle characteristics, namely smoking habits, drinking habits, sleeping hours, medications, exercise habits, and any weight gain of 20 kg or more since the age of 20. Subjects were also asked to indicate if they regularly experienced any of 17 listed difficulties in their daily lives, and to use an illustration of the human body to mark any body parts that were painful or hard to move.
Results
The mean age was 41.8 years (19–73 years). The lower and/or upper back was the most frequent site of pain (46.5%), followed by the shoulders (11.4%), knees (9.6%), and neck (5.3%). Maintaining a half-sitting posture was the most problematic activity of daily living. Back pain was less frequent in subjects who exercised regularly, and more common in those who worked with heavy loads or in narrow spaces. A multinomial logistic regression analysis showed that absence from work was more common in subjects with back pain who had gained weight since their youth, who smoked, who used fire while welding metal, or who worked in a lying posture. While 35.4% of subjects had experienced absence from work due to musculoskeletal pain, only 5.1% were permitted by their employer to alter their work content or reduce their workload.
Conclusions
These results indicate that a large number of shipyard workers have difficulties in their work and daily life activities due to back pain. To prevent worsening of pain and to reduce work absence, it is important to provide appropriate training to minimize the risk factors for back pain that were identified in this study.