01.12.2017 | Research article | Ausgabe 1/2017 Open Access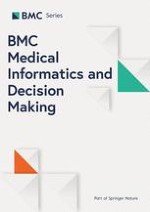 Factors influencing the development of primary care data collection projects from electronic health records: a systematic review of the literature
Zeitschrift:
Autoren:

Marie-Line Gentil, Marc Cuggia, Laure Fiquet, Camille Hagenbourger, Thomas Le Berre, Agnès Banâtre, Eric Renault, Guillaume Bouzille, Anthony Chapron
Abstract
Background
Primary care data gathered from Electronic Health Records are of the utmost interest considering the essential role of general practitioners (GPs) as coordinators of patient care. These data represent the synthesis of the patient history and also give a comprehensive picture of the population health status. Nevertheless, discrepancies between countries exist concerning routine data collection projects. Therefore, we wanted to identify elements that influence the development and durability of such projects.
Methods
A systematic review was conducted using the PubMed database to identify worldwide current primary care data collection projects. The gray literature was also searched via official project websites and their contact person was emailed to obtain information on the project managers. Data were retrieved from the included studies using a standardized form, screening four aspects: projects features, technological infrastructure, GPs' roles, data collection network organization.
Results
The literature search allowed identifying 36 routine data collection networks, mostly in English-speaking countries: CPRD and THIN in the United Kingdom, the Veterans Health Administration project in the United States, EMRALD and CPCSSN in Canada. These projects had in common the use of technical facilities that range from extraction tools to comprehensive computing platforms. Moreover, GPs initiated the extraction process and benefited from incentives for their participation. Finally, analysis of the literature data highlighted that governmental services, academic institutions, including departments of general practice, and software companies, are pivotal for the promotion and durability of primary care data collection projects.
Conclusion
Solid technical facilities and strong academic and governmental support are required for promoting and supporting long-term and wide-range primary care data collection projects.