01.12.2015 | Research article | Ausgabe 1/2015 Open Access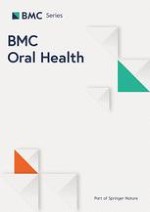 Failure on all fronts: general dental practitioners' views on promoting oral health in high caries risk children- a qualitative study
Zeitschrift:
Autoren:

Ahmad K Aljafari, Jennifer Elizabeth Gallagher, Marie Therese Hosey
Wichtige Hinweise
Competing interests
The authors declare that they have no competing interests.
Authors' contributions
All authors participated in the study design. AA was the main researcher responsible for data collection and analysis while MTH and JG acted as supervisors that have overseen the process. All authors contributed to writing and approval of this paper.
Authors' information
AA is a PhD student that holds an MSc in Paediatric Dentistry. He has experience in performing interviews as well as training for qualitative data management and analysis. MTH is a Professor and an Honorary Consultant in Paediatric Dentistry. JG is a Professor of Oral Health Strategy and Honorary Consultant in Dental Public Health. All team members have experience in qualitative research and contributed to published qualitative studies.
Abstract
Background
Despite overall improvements in oral health, a large number of children in United Kingdom (UK) are affected by dental caries; and the implementation of oral health promotion in some families remains a challenge. As such, children from those families suffer high caries rates, and are frequently referred for tooth extraction under General Anaesthesia (GA), one of the commonest reasons for paediatric hospital admissions. The aim of this investigation is to explore referring primary care General Dental Practitioners' (GDPs) views and experiences in trying to promote better oral health for those children.
Method
A qualitative study, utilizing face-to-face, semi-structured interviews with GDPs in three London boroughs who refer children for extraction of decayed teeth under GA selected based on referral rate. Qualitative Framework Analysis was used to present the results.
Results
Eighteen GDPs (56% male) were interviewed: average age 42 years (range: 26–73 years). informants reported challenges to promotion of oral health categorised as: (1) child's young age, poor cooperation, and high treatment need; (2) parental skills to face up to modern day challenges and poor attitudes towards good oral health (3); social inequality, exclusion and cultural barriers in immigrant families; (4) National Health Services (NHS) primary care practice remuneration, constraints and training; (5) inadequate secondary care communication and engagement; and (6) failure in establishing national policy to grasp the width and depth of the problem.
Conclusion
GDPs feel frustrated and isolated in their efforts to promote oral health in those children. These findings suggest difficult challenges on all fronts. Reform of preventive dentistry funding and delivery, as well as a multiagency multidimensional approach that is mindful of the social determinants of children's oral health and barriers to application of oral and wider health initiatives are needed to address this important public health issue.