01.12.2018 | Research | Ausgabe 1/2018 Open Access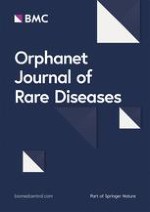 Failure to shorten the diagnostic delay in two ultra-orphan diseases (mucopolysaccharidosis types I and III): potential causes and implications
Zeitschrift:
Autoren:

Gé-Ann Kuiper, Olga L. M. Meijer, Eveline J. Langereis, Frits A. Wijburg
Abstract
Background
Rare diseases are often un- or misdiagnosed for extended periods, resulting in a long diagnostic delay that may significantly add to the burden of the disease. An early diagnosis is particularly essential if a disease-modifying treatment is available. The purpose of this study was to assess the extent of the diagnostic delay in the two ultra-rare diseases, i.e., mucopolysaccharidosis I (MPS I) and III (MPS III), both of which are lysosomal storage disorders with different phenotypic severities (MPS 1 is characterized by the severe Hurler and the more attenuated non-Hurler phenotypes, MPS III is characterized by the severe rapidly progressing (RP) phenotype and more attenuated slowly progressing (SP) phenotype). We investigated whether the diagnostic delay changed over the previous decades.
Results
The diagnostic delay, which is defined as the time between the first visit to a medical doctor for disease-related symptoms and the final diagnosis, was assessed using telephone interviews with patients diagnosed between 1988 and 2017 and/or their parents or legal guardian(s). In addition, the medical charts were reviewed. For MPS I (
n
= 29), the median diagnostic delay was 8 months (range 1-24 months) for Hurler patients and 28 months (range 2-147 months) for non-Hurler patients. For MPS III (
n
= 46), the median diagnostic delay was 33 months (range 1-365 months). No difference was observed between the RP and SP phenotypic groups. Comparing the diagnostic delay over time using 5-year time intervals, no reduction in the diagnostic delay was observed for MPS I or MPS III.
Conclusions
In the Netherlands, the time to diagnosis for patients with MPS I and MPS III has not changed between 1988 and 2017, and an extensive delay still exists between the first visit to a medical doctor for disease-related symptoms and the final diagnosis. The numerous campaigns launched to increase awareness, leading to earlier diagnosis of these rare disorders, particularly of MPS I, have failed to achieve their goal. Robust selected screening protocols embedded in national guidelines and newborn screening for disorders that meet the criteria for population screening may be the only effective approaches for reducing the diagnostic delay.