15.06.2017 | Research Article | Ausgabe 1/2018 Open Access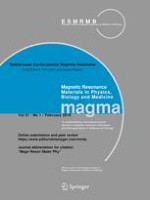 Fatty metaplasia quantification and impact on regional myocardial function as assessed by advanced cardiac MR imaging
Autoren:

Tomas Lapinskas, Bernhard Schnackenburg, Marc Kouwenhoven, Rolf Gebker, Alexander Berger, Remigijus Zaliunas, Burkert Pieske, Sebastian Kelle
Abstract
Objective
This study aimed to investigate the advantages of recently developed cardiac imaging techniques of fat–water separation and feature tracking to characterize better individuals with chronic myocardial infarction (MI).
Materials and methods
Twenty patients who had a previous MI underwent CMR imaging. The study protocol included routine cine and late gadolinium enhancement (LGE) technique. In addition, mDixon LGE imaging was performed in every patient. Left ventricular (LV) circumferential (EccLV) and radial (ErrLV) strain were calculated using dedicated software (CMR42, Circle, Calgary, Canada). The extent of global scar was measured in LGE and fat–water separated images to compare conventional and recent CMR imaging techniques.
Results
The infarct size derived from conventional LGE and fat–water separated images was similar. However, detection of lipomatous metaplasia was only possible with mDixon imaging. Subjects with fat deposition demonstrated a significantly smaller percentage of fibrosis than those without fat (10.68 ± 5.07% vs. 13.83 ± 6.30%;
p
= 0.005). There was no significant difference in Ecc
LV
or Err
LV
between myocardial segments containing fibrosis only and fibrosis with fat. However, Ecc
LV
and Err
LV
values were significantly higher in myocardial segments adjacent to fibrosis with fat deposition than in those adjacent to LGE only.
Conclusions
Advanced CMR imaging ensures more detailed tissue characterization in patients with chronic MI without a relevant increase in imaging and post-processing time. Fatty metaplasia may influence regional myocardial deformation especially in the myocardial segments adjacent to scar tissue. A simplified and shortened myocardial viability CMR protocol might be useful to better characterize and stratify patients with chronic MI.