13.02.2019 | Ausgabe 4/2019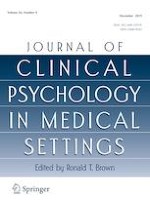 Feasibility of a Single-Subject Protocol to Shift Young Children's Sleep Schedules
Zeitschrift:
Autoren:

Rachel S. Fisher, Kendra N. Krietsch, David. M. Janicke
Wichtige Hinweise
Publisher's Note
Springer Nature remains neutral with regard to jurisdictional claims in published maps and institutional affiliations.
Abstract
The objective of this study is to describe children's adherence to changing sleep schedules within a small-scale, single-subject, at-home sleep manipulation experiment. Subjects were six healthy children (male = 4, ages 6–8). Children underwent: baseline, a 7-day self-selected sleep pattern; Condition A1, a 3- to 12-day stabilized sleep pattern (assigned time into/out of bed set at baseline averages); Condition B, a 3- to 12-day phase-delayed sleep pattern (time into/out of bed 2 h later than Condition A); and Condition A2, a 3- to 7-day return-to-stabilized sleep pattern (time into/out of bed at Baseline averages, identical to Condition A1). All children completed conditions. Per parent report, adherence to assigned time into/out of bed was good; sleep onset/offset adherence was variable. Within this small-scale, short-term sleep manipulation, children effectively got into/out of bed at assigned times despite manipulating sleep schedules by 2 h. However, they struggle to shift their sleep onset and offset times to match the time they were in bed.