11.10.2016 | Head and Neck | Ausgabe 2/2017 Open Access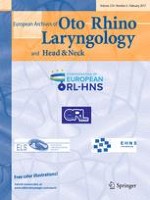 Feasibility of electronic nose technology for discriminating between head and neck, bladder, and colon carcinomas
Zeitschrift:
Autoren:

R. M. G. E. van de Goor, N. Leunis, M. R. A. van Hooren, E. Francisca, A. Masclee, B. Kremer, K. W. Kross
Abstract
Electronic nose (e-nose) technology has the potential to detect cancer at an early stage and can differentiate between cancer origins. Our objective was to compare patients who had head and neck squamous cell carcinoma (HNSCC) with patients who had colon or bladder cancer to determine the distinctive diagnostic characteristics of the e-nose.
Feasibility study
An e-nose device was used to collect samples of exhaled breath from patients who had HNSCC and those who had bladder or colon cancer, after which the samples were analyzed and compared. One hundred patients with HNSCC, 40 patients with bladder cancer, and 28 patients with colon cancer exhaled through an e-nose for 5 min. An artificial neural network was used for the analysis, and double cross-validation to validate the model. In differentiating HNSCC from colon cancer, a diagnostic accuracy of 81 % was found. When comparing HNSCC with bladder cancer, the diagnostic accuracy was 84 %. A diagnostic accuracy of 84 % was found between bladder cancer and colon cancer. The e-nose technique using double cross-validation is able to discriminate between HNSCC and colon cancer and between HNSCC and bladder cancer. Furthermore, the e-nose technique can distinguish colon cancer from bladder cancer.