12.06.2018 | Original Article | Ausgabe 12/2018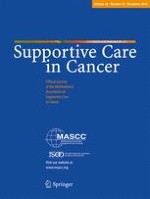 Feasibility of implementing an electronic social support and resource visualization tool for caregivers in a neuro-oncology clinic
Zeitschrift:
Autoren:

Maija Reblin, Dana Ketcher, Peter Forsyth, Eduardo Mendivil, Lauren Kane, Justin Pok, Miriah Meyer, Yelena P. Wu, Jim Agutter
Abstract
Purpose
The goals of this study were to assess the feasibility of a web-based application—electronic Social Network Assessment Program (eSNAP)—to automate the capture and visualization of family caregiver social network data of neuro-oncology patients.
Methods
Caregivers were recruited from a neuro-oncology clinic at an NCI-designated comprehensive cancer center. Participants completed baseline questionnaires on a laptop in clinic assessing demographic characteristics. After baseline, participants were randomly assigned to either create a social network visualization using eSNAP (intervention) or to usual care (control) condition. Those who used eSNAP provided likeability/usability data. All participants were asked to complete follow-up questionnaires at 3 and 6 weeks after baseline to determine feasibility of longitudinal study.
Results
We recruited 40 caregivers of patients with primary malignant brain tumor to participate in this study. Participants rated eSNAP usability and likeability highly, indicating that eSNAP would help them consider their available social support. At 3 weeks, 90% of participants completed questionnaires and 82.5% completed questionnaires at 6 weeks.
Conclusions
There is a need to encourage family caregivers of patients with primary malignant brain tumor to engage their existing social network resources to help alleviate caregiver burden. Our findings suggest that our web-based application to address this issue is feasible to implement with high usability and likeability. This pilot study identified minor changes to the intervention to improve effectiveness and has implications for future research in this understudied population.
Trial registration
clinicaltrials.gov, protocol number NCT03026699