28.04.2016 | Original Article | Ausgabe 2/2017 Open Access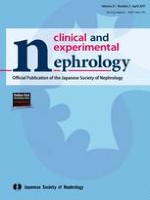 Feasibility of intermittent back-filtrate infusion hemodiafiltration to reduce intradialytic hypotension in patients with cardiovascular instability: a pilot study
Zeitschrift:
Autoren:

Yutaka Koda, Ikuo Aoike, Shin Hasegawa, Yutaka Osawa, Yoichi Nakagawa, Fumio Iwabuchi, Chikara Iwahashi, Tokuichiro Sugimoto, Toshihiko Kikutani
Abstract
Background
Intradialytic hypotension (IDH) is one of the major problems in performing safe hemodialysis (HD). As blood volume depletion by fluid removal is a major cause of hypotension, careful regulation of blood volume change is fundamental. This study examined the effect of intermittent back-filtrate infusion hemodiafiltration (I-HDF), which modifies infusion and ultrafiltration pattern.
Methods
Purified on-line quality dialysate was intermittently infused by back filtration through the dialysis membrane with a programmed dialysis machine. A bolus of 200 ml of dialysate was infused at 30 min intervals. The volume infused was offset by increasing the fluid removal over the next 30 min by an equivalent amount. Seventy-seven hypotension-prone patients with over 20-mmHg reduction of systolic blood pressure during dialysis or intervention-requirement of more than once a week were included in the crossover study of 4 weeks duration for each modality. In a total of 1632 sessions, the frequency of interventions, the blood pressure, and the pulse rate were documented.
Results
During I-HDF, interventions for symptomatic hypotension were reduced significantly from 4.5 to 3.0 (per person-month, median) and intradialytic systolic blood pressure was 4 mmHg higher on average. The heart rate was lower during I-HDF than HD in the later session. Older patients and those with greater interdialytic weight gain responded to I-HDF.
Conclusions
I-HDF could reduce interventions for IDH. It is accompanied with the increased intradialytic blood pressure and the less tachycardia, suggesting less sympathetic stimulation occurs. Thus, I-HDF could be beneficial for some hypotension-prone patients.
UMIN registration number
000013816.