01.12.2015 | Research article | Ausgabe 1/2015 Open Access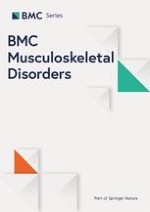 Feasibility of model-based Roentgen Stereophotogrammetric Analysis to evaluate early migration of the trapeziometacarpal joint prosthesis
Zeitschrift:
Autoren:

E.M. Ooms, B. ten Brinke, N.M.C. Mathijssen, I.F. Blom, R.L.M. Deijkers, G.A. Kraan
Wichtige Hinweise
Competing Interests
The authors declare that they have no competing interest.
Authors' Contributions
EO was responsible for the coordination of this study. He drafted the manuscript and performed the Roentgen Stereophotogrammetric Analysis. BB assisted in the Roentgen Stereophotogrammetric Analysis and helped to draft and finish the manuscript; NMC participated in the study design and performed statistical analyses. RD implanted the prostheses in the cadaveric hands and participated in the design of the study. GK assisted in coordination of the study and draft of the manuscript. IB was responsible for making all RSA radiographs and gave technical support during the analysis. All authors read and approved the final manuscript.
Abstract
Background
The purpose of this study was to determine the feasibility of Roentgen Stereophotogrammetric Analysis (RSA) in total joint arthroplasty of the trapeziometacarpal (TMC) joint of the thumb.
Methods
In five cadaveric hands the TMC-joint was replaced by the Surface Replacement Trapeziometacarpal prosthesis (SR™ TMC prosthesis; Avanta, San Diego, CA) and tantalum beads of 0.8 mm were implanted for RSA. RSA radiographs in two directions were made in ten positions to calculate the measurement error. Migration values from zero are indicative for the measurement error. The number of detected markers was recorded.
Results
The accuracy analysis showed that for the translations the mean measurement error varied between 0.003 mm (SD 0.057) and 0.055 mm (SD 0.133). For the rotations values ranged from 0.034° (SD 1.759) to 0.502° (SD 1.617).
Conclusions
RSA analysis of the SR™ TMC prosthesis is feasible. The measurement error is good for the translations but high for the rotations. The latter is due to the close position of the markers relative to each other. Level of evidence III.