19.05.2018 | Original Article | Ausgabe 4/2018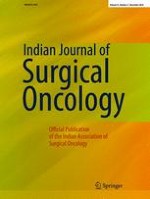 Feasibility, Safety, and Surgical Outcome of Robotic Hemithyroidectomy Via Transaxillary and Retroauricular Approach: an Institutional Experience
Zeitschrift:
Autoren:

Surender Dabas, Karan Gupta, Yogendra Singh Bhakuni, Reetesh Ranjan, Himanshu Shukla, Ashwani Sharma
Abstract
The aim of this observational prospective study was to determine the technical feasibility, safety, and adequacy of robotic hemithyroidectomy. From April 2015 to May 2016, 16 patients with solitary thyroid lesion underwent robotic hemithyroidectomy using the
Da Vinci® Si
Surgical system. Patients were observed and data were recorded on surgical time, blood loss, complications, and functional outcome of the patients. A total of 16 patients (3 males and 13 females; mean age 39.9 years) underwent robotic hemithyroidectomy after evaluation for solitary thyroid nodule with a mean nodule size of 2.2 ± 0.3 cm. Fiber-optic laryngoscopy (FOL) was normal in all cases pre-operatively. Five patients were operated by transaxillary approach, the rest by retroauricular (facelift) approach. Mean pocket dissection time was 42 min for transaxillary and 40 min for retroauricular approach. Mean operative console time was 59.4 min for transaxillary and 52.6 min for retroauricular approach. Average blood loss was 45 ml. Mean hospital stay was 1.5 days. None of the patients had any post-operative complication on follow-up. One patient had restricted left vocal cord mobility which improved in 3 months. Mean pain score was 0.25 ± 0.4 and average speech score was 0.5 ± 0.2 at 3 months. Post-operatively, all patients had adequate swallowing with no episode of aspiration. Robotic hemithyroidectomy is a safe, feasible, and oncologically safe procedure. It has benefits in terms of better scar cosmesis than open surgery.