28.04.2018 | Original Article | Ausgabe 5/2018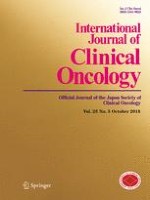 Feasibility study of postoperative adjuvant chemotherapy with S-1 in patients with biliary tract cancer
Zeitschrift:
Autoren:

Kohei Nakachi, Masaru Konishi, Masafumi Ikeda, Kazuaki Shimada, Takuji Okusaka, Akio Saiura, Hiroshi Ishii, Masanori Sugiyama, Junji Furuse, Hirohiko Sakamoto, Tomotaka Shimamura, Takehiro Ohta
Abstract
Background
The role of adjuvant chemotherapy has not yet been established for patients with resected biliary tract cancer. S-1 has been shown to exert activity against advanced biliary tract cancer. Therefore, we evaluated the feasibility of adjuvant chemotherapy with S-1 in patients with resected biliary tract cancer.
Methods
Patients with complete macroscopic resection of intrahepatic/extrahepatic bile duct, gall bladder, or ampullary cancer were eligible. S-1 was administered orally twice daily for 4 weeks every 6 weeks, up to 4 cycles. The treatment was continued up to 24 weeks or until recurrence/appearance of unacceptable toxicity. The primary endpoint was the treatment completion rate, which was defined as the percentage of patients who received a relative dose intensity of ≥ 75%. This trial was registered as UMIN000004051.
Results
Thirty-three patients were enrolled between June 2010 and March 2011. The relative dose intensity was ≥ 75% in 27 patients representing a treatment completion rate of 81.8%. The most common grade 3/4 adverse event was neutropenia (18%). Grade 2 nausea or diarrhea was observed in 12%. The 3-year relapse-free survival rate was 39.4%. The 3-year survival rate was 54.5%.
Conclusion
Adjuvant chemotherapy with S-1 is feasible treatment in patients with resected biliary tract cancer. It is necessary to conduct a phase III study to confirm the efficacy of adjuvant therapy of S-1 in patients with resected BTC.