01.12.2017 | Research article | Ausgabe 1/2017 Open Access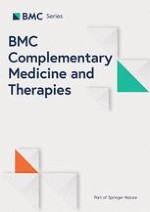 Fermented herbal formula KIOM-MA-128 protects against acute colitis induced by dextran sodium sulfate in mice
Zeitschrift:
Autoren:

Dong-Gun Kim, Mi-Ra Lee, Jae-Myung Yoo, Kwang-Il Park, Jin-Yeul Ma
Abstract
Background
Colitis is a well-known subtype of inflammatory bowel disease and is caused by diverse factors. Previous research has shown that KIOM-MA elicits anti-inflammatory and anti-allergic effects on various diseases. KIOM-MA-128, our novel herbal formula, was generated from KIOM-MA using probiotics to improve the therapeutic efficacy. We investigated whether KIOM-MA-128 has protective activity in a mouse model of acute colitis induced by dextran sodium sulfate (DSS).
Methods
Colitis was induced by DSS administered to ICR mice in drinking water. KIOM-MA-128 (125 or 250 mg/kg) was orally administered once per day. The body weights of the mice were measured daily, and colonic endoscopies were performed at 5 and 8 days. Colon length as well as histological and cytokine changes were observed at the end of drug administration.
Results
KIOM-MA-128 has pharmacological activity in an acute colitis model. KIOM-MA-128 reduced the loss of body weight and disease activity index (DAI) and inhibited the abnormally short colon lengths and the colonic damage in this mouse model of acute colitis. Moreover, KIOM-MA-128 suppressed pro-inflammatory cytokine expression and maintained the integrity of the tight junctions during DSS-induced colitis.
Conclusion
The results indicated that KIOM-MA-128 protects against DSS-induced colitis in mice and suggested that this formula might be a candidate treatment for inflammatory bowel disease (IBD).