01.12.2013 | Research | Ausgabe 1/2013 Open Access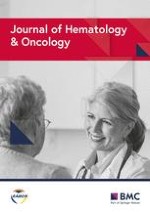 Fibroblast growth factor-2 (FGF2) and syndecan-1 (SDC1) are potential biomarkers for putative circulating CD15+/CD30+ cells in poor outcome Hodgkin lymphoma patients
Zeitschrift:
Autoren:

Rajendra Gharbaran, Andre Goy, Takemi Tanaka, Jongwhan Park, Chris Kim, Nafis Hasan, Swathi Vemulapalli, Sreeja Sarojini, Madalina Tuluc, Kip Nalley, Pritish Bhattacharyya, Andrew Pecora, K Stephen Suh
Wichtige Hinweise
Electronic supplementary material
The online version of this article (doi:
10.​1186/​1756-8722-6-62
) contains supplementary material, which is available to authorized users.
Competing interests
The authors have no conflict of interest to declare.
Authors' contributions
RG and KSS designed the study and wrote the manuscript. RG, JP, CK, SS, NH, and SV performed the experiments; TT and MT provided clinical samples and performed experiments; KN provided bioinformatics software and analyses; RG, AG, PB and KSS analyzed the data; AG and AP reviewed the paper and provided advice. All authors read and approved the final manuscript.
Abbreviations
ABVD
Adriamycin bleomycin, vinblastine, dacarbazine acc., accelerated
BCPAT
BEAM conditioning pre-auto transplant
BEACOPP
Bleomycin etoposide, adriamycin, cyclophosphamide, vincristine, procarbazine, prednisone
CPPV
Chlorambucil procarbazine, prednisone, Vinblastine
DICE
Dexamethasone ifosfamide, cisplatin, etoposide
EPOCH
Etoposide vincristine, and doxorubicin with bolus cyclophosphamide
ESHAP
Etoposide methylprednisolone, Ara-C, and cisplatin
FMPAL
Fludarabine melphalan, pre-allo transplant
GVD
Gemcitabine vinorelbine, liposomal vincristine
HCVAD
Hyper cyclophosphamide vincristine, adriamycin, and dexamethasone
ICE
Ifosfamide carboplatin, etoposide
IGEV
Ifosfamide gemcitabine, and vinorelbine
Background
Up to 20% of Hodgkin lymphoma (HL) patients are either refractory to treatment (primary refractory) or experience relapse within four years (early relapse) of achieving complete remission (CR), and includes patients who experience progressive disease and patients with a particularly poor prognosis for other reasons [
1
]. Only half of HL patients survive for two years if front line therapy fails, and autologous hematopoietic stem-cell transplant (ASCT) is only 50% curative [
2
]. Although the International Prognostic Score was introduced to improve the risk stratification of patients [
3
], its applicability is limited for predicting high risk cHL patients, regardless of clinical stage. While patients in this group may benefit from analysis of the tumor-associated macrophage marker CD68, which can be used to predict adverse outcomes of cHL [
4
], the prediction is controversial [
5
]. The antibody conjugate drug brentuximab vedotin targets CD30. In clinical trials, brentuximab vedotin therapy improved clinical outcomes for relapsing and refractory classical HL (RR-cHL) patients by producing survival times that were 6 months longer than for patients on the conventional treatment arm [
6
]. This increased survival could perhaps be due to increased chemoresistance that can result from heavy pre-treatment. Therefore, the availability of biomarkers that identify patients who will have a poor outcome to conventional frontline therapy will permit more aggressive treatment of these patients, improving their prognosis.
Classical HL is a monoclonal lymphoid neoplasm that in almost all instances appears to be derived from (post-) germinal center B cells [
7
–
9
]. The immunohistochemical (IHC) hallmark of HL tumor cells is CD30 antigen expression [
10
]. The morphological phenotype of cHL comprises an unusually small number (<2%) of mononuclear Hodgkin (H) cells and multinucleated Reed-Sternberg (RS) cells residing in an extensive inflammatory background, which is mostly composed of T cells, histocytes, eosinophils, plasma cells, and macrophages [
10
]. This inflammatory background in the tumor microenvironment is maintained by Hodgkin's and Reed-Sternberg cell (HRS)-derived chemokines and cytokines that recruit the tumor microenvironment cellular components [
11
–
14
]. The composition of the tumor microenvironment or the molecular phenotype of the HRS cells, or both, is thought to determine the relative aggressiveness of cHL at an individual level [
10
].
At presentation, about 10–15% of cHL cases have extranodal involvement [
15
], which is a negative prognostic factor even for patients with limited stage disease [
16
]. Extranodal involvement, whether primary or secondary, indicates lymphatic and hematogenous spread of the disease [
15
]. Therefore, neoplastic HRS cells could reasonably be assumed to occur in peripheral blood, albeit at levels not detectable by present diagnostic techniques, thus resulting in circulating tumor cell (CTC) involvement in HL. CTCs are frequently associated with poor clinical outcomes for solid [
17
] and liquid tumors [
18
]. Despite the limited number of cases (about a dozen over the past 100 years) of CTCs in the peripheral blood of HL patients, most were associated with either primary refractory or relapsing disease. In addition, well-established cell lines that have contributed tremendously to the understanding of HL were derived from primary HL tumor cells isolated from extranodal sites: peripheral blood [
19
], bone marrow [
20
], or pleural fluid [
21
] of refractory or relapsing patients. These findings suggest that primary HL tumor cells can escape the physical barrier of the tumor microenvironment into the circulation to access extra-nodal destinations. The limited evidence indicating the presence of HRS cells among peripheral blood leukocytes (PBL) may be a consequence of their low proliferative index, the terminally differentiated status of the RS cells and their lack of mobility, or the propensity of these malignant cells to form a solid tumor mass [
22
]. These characteristics have hampered investigations aimed at identifying HRS-derived biomarkers in peripheral blood for high risk, poor outcome, primary refractory, and early relapsing cHL patients.
Results
Discussion
Conclusions
Our study used bioinformatics analysis to identify biomarkers that could be helpful in identifying HL patients who are predisposed to a poor outcome, and could be helpful in directing these patients to the optimal treatment regimen. In poor prognosis HL patients, we found small subsets of circulating CD30+/CD15+ cells that express FGF2 and SDC1; these proteins may be appropriate biomarkers for HL prognosis.
Methods and materials
Bioinformatics
The BioXM software platform (Sophic Alliance, Rockville, MD) was used to mine potential biomarkers for Hodgkin's lymphoma using the National Cancer Institute (NCI) Cancer Gene Index, which contains 7,000 cancer genes and 2,200 biomarker genes. These genes were annotated and validated from 18 million Medline abstracts and 24,000 Hugo genes from over 80 databases, using a combination of algorithmic methods (Biomax Informatics, Munich, Germany) that included natural language processing (NLP), Biomarker Role Codes, the NCI Cancer Thesaurus, and Karp's Evidence Codes [
23
]. The identification of potential biomarkers was performed by initiating queries on BioXM with a combination of search terms including Hodgkin's disease, lymphoma, cancer, biomarker, overexpression, up-regulation or down-regulation, and differentially-expressed. The bioinformatics-guided search generated 151 potential HL biomarkers (Table
2
).
Cell lines and cell culture
The Hodgkin's lymphoma cell lines KM-H2, HD-MY-Z, HDLM-2, L-591, and SUP-HD1 were obtained from the German Collection of Microorganisms and Cell Cultures (Braunschweig, Germany). L-428, L-1236, and L-540 cells were generous gifts provided by Dr. Volker Diehl (University of Cologne, Germany). U-H01 and DEV cells were kind gifts from Dr. S. Brüderlein (University Hospital Ulm, Germany) and Dr. Debora De Jong (Netherlands), respectively. KM-H2, L-428, HD-MY-Z, and L-1236 cells were cultured in 90% RPMI 1640 supplemented with 10% fetal bovine serum (FBS). SUP-HD1 cells were grown in 80% McCoy's 5A medium containing 20% FBS. HDLM-2, L-540, and L-591 cells were grown in 80% RPMI 1640 supplemented with 20% FBS. U-H01 cells were grown in Iscove's MDM and RPMI 1640 (4:1) supplemented with 20% FBS. All culture media contained 2 mM L-glutamine, penicillin (100 U/ml), and streptomycin (0.1 mg/ml). Cultures were maintained at 37°C with 5% CO
2
. The clinical characteristics of each cell line were previously documented and are presented in Table
3
. DEV, KM-H2, and SUP-HD1 cells were derived from relapsing cases. HD-MY-Z, L1236, L428, and U-H01 cells were from refractory patients.
Table 3
Characteristics of HL cell lines
| Cell line | Clinical characteristic | Anatomic site of primary cell |
| --- | --- | --- |
| DEV | relapse | Pleural fluid |
| HDLM2 | n/a | Pleural fluid |
| HD-MY-Z | refractory | Bone marrow |
| KM-H2 | relapse | Pleural fluid |
| L1236 | refractory/relapse | Peripheral blood |
| L428 | refractory | Pleural fluid |
| L540 | n/a | Bone marrow |
| L591 | n/a | Pleural fluid |
| SUP-HD1 | relapse | Pleural fluid |
| U-H01 | refractory | Pleural fluid |
RNA isolation and cDNA synthesis
Total RNA from cell lines and peripheral blood (PBL) of HL patients was isolated using Trizol (Invitrogen, Carlsbad, CA). RNA from archived FFPE tissue sections was extracted using RNeasy (Qiagen, CA) according to the manufacturer's instructions. The RNA concentration was spectrophotometrically determined at A260 (ThermoElectro Corporation). Total RNA integrity was checked by resolution on a 2% agarose gel under denaturing conditions. cDNA was generated using the SuperScript III RT First-Strand cDNA Synthesis Kit (Invitrogen, Carlsbad, CA) according to the manufacturer's protocol. Oligo-dT primers were used to generate cDNA from cell lines and PBL-derived RNA, and random hexamers were used for generating cDNA from RNA obtained from FFPE sections.
Polymerase chain reaction (PCR)
Primer sets used for each gene were generated using online primer tools (University of Massachusetts;
http://​biotools.​umassmed.​edu/​bioapps/​primer3_​www.​cgi
) (Table
2
). Primers were designed to have lengths of 18 to 27 nt with Tm = 60°C and 45 to 65% GC content, and were synthesized by a custom primer service provided by Invitrogen. Each primer pair was confirmed to generate a single discrete band by end-point PCR (BioRad DNA Engine Peltier Thermal Cycler) using cDNAs generated from normal spleen tissue. End-point PCR conditions consisted of denaturation at 95°C for 30 seconds, annealing at 55°C for 30 seconds, and primer extension at 72°C for 1 minute. The primer pairs were designed to generate a PCR fragment of 150–170 bp for cell line- and PBL-derived cDNA, and 70–100 bp for FFPE-derived cDNA (Table
4
). The PCR products were resolved on a 2% agarose gel and visualized with ethidium bromide staining using a BioRad Imager. For qRT-PCR, each reaction consisted of 43 ng cDNA, 10 mmole primers and 10 μl 2X Power SYBR Green PCR Master Mix (Applied Biosystems, Foster City, CA) in a final volume of 20 μl, which was placed in a MicroAmp Fast Optical 96-Well Reaction Plate designed for use with the ABI7900 PCR system (Applied Biosystems). The reaction was performed using the standard mode (initial denaturation at 95°C for 10 minutes followed by 40 cycles of 95°C for 15 seconds and 60°C for 1 minute). Each qRT-PCR reaction was done in triplicate, and each data set was analyzed with ABI7900 software. The amount of target mRNA was normalized to the expression levels of the housekeeping gene GAPDH. For cell lines, CD19 was used as control. For PBL analysis, the expression levels of CD14/63, CD38/19, and CD4/8 were compared against their expression in monocytes, CD19+ B cells, helper T cells, and cytotoxic T cells, respectively, of healthy donors (Miltenyi Biotech). Pooled normal cDNA (n=20) was used as a control for gene expression analysis of FFPE tissue-derived cDNA. The ΔΔCt method was used to calculate the fold-change relative to controls.
Table 4
Primer sets for each gene used in this study
A. Primer sets used on PBL samples.

GAPDH

catggcctccaaggagtaag

aggggtctacatggcaactg

CD4

atgtggcagtgtctgctgag

cctagcccaatgaaaagcag

CD8

cagagctacccgcagagttc

ctccaaccctgacttgctgt

CD30

ccaacttagctgtcccctga

ctgggaccaatgctgttctc

CD15

gcaggtgggactttgttgtt

ccaaggacaatccagcactt

CD19

ttctgcctgtgttcccttg

cacgttcccgtactggttct

CD38

agatctgagccagtcgctgt

aaaaaggcttccgtctctgg

CD14

gagctcagaggttcggaaga

ttcggagaagttgcagacg

CD63

aaccacactgcttcgatcct

aatcccacagcccacagtaa

FGF2

tgctcagcagtcaccatagc

cttgaggtggaagggtctcc

SDC1

cttcacactccccacacaga

ggccactacagccgtattct

B. Primer sets used on FFPE tissues.

GAPDH

cctcaacgaccactttgtca

ccctgttgctgtagccaaat

TGFβ

gtacctgaacccgtgttgct

cacgtgctgctccactttta

MMP9

ggcgctcatgtaccctatgt

gccattcacgtcgtccttat

CD30

gaagctccacctgtgctacc

ggtctggaatccacaagctc

CD68

tgacacccacggttacagag

gtggttttgtggctcttggt

SDC1

taggacctttccaccacagc

gaggctgcttcagtttggag

FGF2

tgaggctgagaggtcaaggt

ctctgttgcctaggctggac
Selection of clinical samples
The selection criteria of peripheral blood samples were based on the response to front line therapy (Table
1
). Twenty five nodular sclerosing cHL patient samples registered in the database at the Hackensack University Medical Center were categorized into: 1) good outcome chemo-naïve, untreated, relapse-free/disease-free > 4 years (n=12); 2) poor outcome chemo-naïve (untreated), primary refractory or early relapse (n=7); 3) chemo-exposed (pretreated), multiple relapses (n=6). Formalin-fixed, paraffin-embedded (FFPE), and fresh frozen (FF) lymph nodes from different HL stages and subtypes were obtained from Thomas Jefferson University, the Tissue Repository of the Hackensack University Medical Center, and Proteogenex (Culver City, CA). Biospecimens with the relevant clinical characteristics were grouped into good outcome (GO, relapse free/disease free > 4 years, n=20) and poor outcome (PO, shortened survival— death 2 to 3 years after diagnosis). A lymphoma tissue array was obtained from US Biomax (Rockville, MD).
Immunohistochemistry
FFPE and fresh frozen lymph nodes from different stages and subtypes of HL were purchased from US Biomax and Proteogenex. FFPE sections (5 μm) mounted on slides were dewaxed twice with Histochoice clearing agent (Amresco, Solon, OH) for 10 minutes each, then sequentially hydrated in 100%, 90%, 80%, 70%, and 50% ethanol followed by equilibration in PBS for 5 minutes each. All antigen retrievals were carried out in a 95°C water bath for 20–30 minutes (depending on the antigen) using high pH (pH 9) buffer (DAKO) for FGF2, SDC1, MMP9, and CD68, or low pH (pH 6) buffer (DAKO) for CD30, TGFβ1, and CD20. The sections were cooled for 20 minutes at room temperature and then washed twice with PBS for 5 minutes. Endogenous peroxidases were quenched by incubating the sections in 3% H2O2 solution in PBS for 10 minutes followed by rapid washes in PBS at room temperature. A hydrophobic PAP pen (Vector Labs, Burlingame, CA) was used to make a dam around the sections, which were then blocked at room temperature for 2 hours with 1% BSA containing 5% swine serum in PBS, followed by overnight incubation with primary antibodies at 4°C. Monoclonal antibodies for CD30 (clone Ber-H2, DAKO), SDC1 (clone BB4, Abd Serotec), CD68 (clone PG-M1, DAKO), and CD20 (clone L26, DAKO) were used at dilutions of 1:20, 1:40, 1:50, and 1:100, respectively. Rabbit polyclonal antibodies for FGF2 (Santa Cruz), TGFβ1 (Santa Cruz), and MMP9 (DAKO) were used at dilutions of 1:200, 1:200, and 1:100, respectively. Stained sections were washed three times in PBS/0.1% Tween-20 for 5 minutes each and then once in PBS for 5 minutes. Signal detection was carried out using an LSAB kit according to the manufacturer's instructions (DAKO), with minor modifications. Briefly, sections were incubated in Biotinylated Link for 30 minutes at room temperature and washed three times in 0.1% PBST for 5 minutes each. Sections were then incubated in streptavidin-HRP for 30 minutes and washed as described above. Signals were visualized by incubating the slides in a solution of 1 ml substrate buffer with 1 drop chromogen, and immediately rinsed in tap water. The sections were counterstained with hematoxylin (Vector Labs) for 22 seconds and immediately washed in tap water before mounting with Aqua Mount (Vector Labs). Photomicrographs of stained tissues were generated with an Axio Cam MRc camera coupled to an Axio Imager Microscope (Carl Zeiss, Thornwood, NY). Positive control slides included tonsil for CD20, CD68, and SDC1, and ALCL for CD30 (on lymphoma array). For qualitative scoring, no staining was assigned a score of 0, weak staining 1, moderate staining 2, and intense staining, 3.
Immunofluorescence
Double immunofluorescence analysis was performed on 5 μm FFPE and OCT-embedded 8 μm fresh frozen (FF) tissue sections that were mounted on positively-charged frosted slides (Histoserv, Germantown, MD). FFPE sections were processed similarly to the preparation used for IHC. OCT-embedded FF sections were thawed at room temperature for 20 minutes, rinsed briefly in PBS, and then fixed in 3.7% formaldehyde (Electron Microscopy Sciences, PA) for 20 minutes at room temperature. The remaining steps for immunofluorescence signal detection were carried out using a TSA Detection system (Invitrogen) according to the manufacturer's instructions. Monoclonal and polyclonal signals were detected with Alexa Fluor 488 and Alexa Fluor 546, respectively. The antibodies used were the same as for IHC, except that a SDC1 rabbit polyclonal antibody (Sigma-Aldrich) was used for CD30-SDC1 double staining. Slides were counterstained with Hoechst 33342, visualized with a Leica DMI 6000B inverted microscope, and analyzed using Leica MM AF software, version 1.5 (Leica Microsystems). Slides were independently reviewed and verified by two pathologists.
Statistics
Data analyses were performed using SAS 9.1.3, StatView 5, or JMP 4. Contingency and likelihood ratio analyses were used to determine the independence of staging and prognosis. The mean fold-change for each sample was determined from triplicates of the qRT-PCR data. Analysis of variance (ANOVA) and F statistics were used to determine differences between the means of the poor outcome group and other outcome groups. Fisher's protected least significant difference (PLSD) was used to determine pair-wise significant differences between group means.
Keypoints
FGF2 and SDC1 overexpression by circulating CD15+/CD 30+ cells is associated with poor outcome in Hodgkin Lymphoma.
Acknowledgment
This research was supported by funding from the Lisa B. Fishman Foundation and the John Theurer Cancer Center of the Hackensack University Medical Center.
Competing interests
The authors have no conflict of interest to declare.
Authors' contributions
RG and KSS designed the study and wrote the manuscript. RG, JP, CK, SS, NH, and SV performed the experiments; TT and MT provided clinical samples and performed experiments; KN provided bioinformatics software and analyses; RG, AG, PB and KSS analyzed the data; AG and AP reviewed the paper and provided advice. All authors read and approved the final manuscript.