01.12.2012 | Methodology | Ausgabe 1/2012 Open Access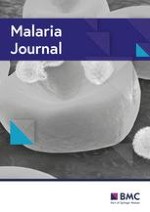 Filter paper collection of
Plasmodium falciparum

mRNA for detecting low-density gametocytes
Zeitschrift:
Autoren:

Sophie Jones, Colin J Sutherland, Cornelus Hermsen, Theo Arens, Karina Teelen, Rachel Hallett, Patrick Corran, Marga van der Vegte-Bolmer, Robert Sauerwein, Chris J Drakeley, Teun Bousema
Wichtige Hinweise
Electronic supplementary material
The online version of this article (doi:
10.​1186/​1475-2875-11-266
) contains supplementary material, which is available to authorized users.
Competing interests
The authors declare that they have no competing interests.
Authors' contributions
SJ, TB, CD, CH and RH designed the experiments, RS contributed reagents for the study, MVB cultured the parasites and SJ, TA, KT and CH set up the study. SJ extracted the RNA, performed the RT-PCR and QT-NASBA and CS provided RT-PCR primers and contributed to RT-PCR protocol design. SJ, TB and CD interpreted the data, SJ, TB and PC performed the statistical analysis and SJ and TB wrote the manuscript. CD and CS revised the manuscript. All authors read and approved the final manuscript.
Abstract
Background
Accurate sampling of sub-microscopic gametocytes is necessary for epidemiological studies to identify the infectious reservoir of
Plasmodium falciparum
. Detection of gametocyte mRNA achieves sensitive detection, but requires careful handling of samples. Filter papers can be used for collecting RNA samples, but rigorous testing of their capacity to withstand adverse storage conditions has not been fully explored.
Methods
Three gametocyte dilutions: 10/μL, 1.0/μL and 0.1/μL were spotted onto Whatman™ 903 Protein Saver Cards, FTA Classic Cards and 3MM filter papers that were stored under frozen, cold chain or tropical conditions for up to 13 weeks . RNA was extracted, then detected by quantitative nucleic acid sequence-based amplification (QT-NASBA) and reverse-transcriptase PCR (RT-PCR).
Results
Successful gametocyte detection was more frequently observed from the Whatman 903 Protein Saver Card compared to the Whatman FTA Classic Card, by both techniques (p < 0.0001). When papers were stored at higher temperatures, a loss in sensitivity was experienced for the FTA Classic Card but not the 903 Protein Saver Card or Whatman 3MM filter paper. The sensitivity of gametocyte detection was decreased when papers were stored at high humidity.
Conclusions
This study indicates the Whatman 903 Protein Saver Card is better for Pfs25 mRNA sampling compared to the Whatman FTA Classic Card, and that the Whatman 3MM filter paper may prove to be a satisfactory cheaper option for Pfs25 mRNA sampling. When appropriately dried, filter papers provide a useful approach to Pfs25 mRNA sampling, especially in settings where storage in RNA-protecting buffer is not possible.