01.12.2016 | Case report | Ausgabe 1/2016 Open Access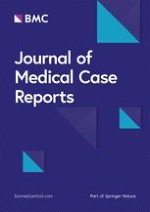 First report on treating spontaneous infectious spondylodiscitis of lumbar spine with posterior debridement, posterior instrumentation and an injectable calcium sulfate/hydroxyapatite composite eluting gentamicin: a case report
Zeitschrift:
Autoren:

Richard Bostelmann, Hans Jakob Steiger, Armin O. Scholz
Abstract
Background
Spontaneous infectious spondylodiscitis is a rare, but serious disease with the risk of progressive neurological impairment. The surgical approach to spontaneous infectious spondylodiscitis is in most cases an anterior debridement and fusion, often in staged surgeries. Here we report a case of single-stage posterior debridement and posterior instrumented fusion in combination with an injectable calcium sulfate/hydroxyapatite composite eluting gentamicin.
Case presentation
A 59-year-old Caucasian man presented with a 6-week history of lumbar pain without sensory or motor disorders of his lower extremities. A magnetic resonance imaging scan of his lumbar spine in T2-weighted sequences showed a high signal of the intervertebral disc L4/L5 and in T1-weighted sequences an epidural abscess at the posterior wall of L4. Additional computed tomography imaging revealed osteolytic destruction of the base plate of L4 and the upper plate of L5. Antibiotic therapy was started with intravenous ciprofloxacin and clindamycin. We performed a posterior debridement via a minimally invasive approach, a posterior percutaneous stabilization using transpedicular screw-rod instrumentation and filled the intervertebral space with an injectable calcium sulfate/hydroxyapatite composite which elutes a high concentration of gentamicin. The patient's lower back pain improved quickly after surgery and no recurrence of infection has been noticed during the 1-year follow-up. Computed tomography at 11 months shows complete bony fusion of L4 and L5.
Conclusions
An injectable calcium sulfate/hydroxyapatite composite releasing a high level of gentamicin can support the surgical treatment of spondylodiscitis in combination with posterior debridement and transpedicular screw-rod instrumentation.