01.12.2017 | Research | Ausgabe 1/2017 Open Access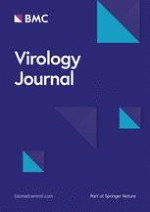 First study conducted in Northern India that identifies group C rotavirus as the etiological agent of severe diarrhea in children in Delhi
Zeitschrift:
Autoren:

Vasundhara Razdan Tiku, Baoming Jiang, Praveen Kumar, Satender Aneja, Arvind Bagga, Maharaj Kishen Bhan, Pratima Ray
Abstract
Background
Group C Rotavirus (RVC) is an enteric pathogen responsible for acute gastroenteritis in children and adults globally. At present there are no surveillance studies on group C Rotaviruses in India and therefore their prevalence in India remains unknown. The present study aimed to evaluate group C rotavirus infection among <5 years old children hospitalized with acute gastroenteritis in New Delhi.
Methods
A total of 350 fecal specimens were collected during September 2013 to November 2014 from <5 years old diarrheal patients admitted at KSCH hospital, Delhi. The samples found negative for group A rotavirus (
N
 = 180) by Enzyme immunoassay were screened for group C rotavirus by RT-PCR with VP6, VP7 and VP4 gene specific primers. The PCR products were further sequenced (VP6, VP7, VP4) and analyzed to ascertain their origin and G and P genotypes.
Results
Six out of 180 (group A rotavirus negative) samples were found positive for group C rotavirus by VP6 gene specific RT-PCR, of which 3 were also found positive for VP7 and VP4 genes. Phylogenetic analysis of VP7 and VP4 genes of these showed them to be G4 and P[2] genotypes. Overall, the nucleotide sequence data (VP6, VP7 and VP4) revealed a close relationship with the human group C rotavirus with no evidence of animal ancestry. Interestingly, the nucleotide sequence analysis of various genes also indicated differences in their origin. While the identity matrix of VP4 gene (
n
 = 3) showed high amino acid sequence identity (97.60 to 98.20%) with Korean strain, the VP6 gene (
n
 = 6) showed maximum identity with Nigerian strain (96.40 to 97.60%) and VP7 gene (
n
 = 3) with Bangladeshi and USA strains. This is true for all analyzed samples.
Conclusion
Our study demonstrated the group C rotavirus as the cause of severe diarrhea in young children in Delhi and provides insights on the origin of group C rotavirus genes among the local strains indicating their source of transmission. Our study also highlights the need for a simple and reliable diagnostic test that can be utilized to determine the disease burden due to group C rotavirus in India.