01.07.2014 | Original Research | Sonderheft 2/2014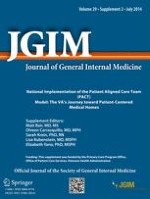 First Things First: Foundational Requirements for a Medical Home in an Academic Medical Center
Zeitschrift:
Autoren:

ScD, MHS Jane Forman, PhD Molly Harrod, MPH Claire Robinson, RN, MPH Ann Annis-Emeott, MPH Jessica Ott, MPH Darcy Saffar, PhD, RN Sarah L. Krein, MD Clinton L. Greenstone
ABSTRACT
BACKGROUND
In 2010, the Veterans Health Administration (VHA) began implementation of its medical home, Patient Aligned Care Teams (PACT), in 900 primary care clinics nationwide, with 120 located in academically affiliated medical centers. The literature on Patient-Centered Medical Home (PCMH) implementation has focused mainly on small, nonacademic practices.
OBJECTIVE
To understand the experiences of primary care leadership, physicians and staff during early PACT implementation in a VHA academically affiliated primary care clinic and provide insights to guide future PCMH implementation.
DESIGN
We conducted a qualitative case study during early PACT implementation.
PARTICIPANTS
Primary care clinical leadership, primary care providers, residents, and staff.
APPROACH
Between February 2011 and March 2012, we conducted 22 semi-structured interviews, purposively sampling participants by clinic role, and convenience sampling within role. We also conducted observations of 30 nurse case manager staff meetings, and collected data on growth in the number of patients, staff, and physicians. We used a template organizing approach to data analysis, using select constructs from the Consolidated Framework for Implementation Research (CFIR).
KEY RESULTS
Establishing foundational requirements was an essential first step in implementing the PACT model, with teamlets able to do practice redesign work. Short-staffing undermined development of teamlet working relationships. Lack of co-location of teamlet members in clinic and difficulty communicating with residents when they were off-site hampered communication. Opportunities to educate and reinforce PACT principles were constrained by the limited clinic hours of part-time primary care providers and residents, and delays in teamlet formation.
CONCLUSIONS
Large academic medical centers face special challenges in implementing the medical home model. In an era of increasing emphasis on patient-centered care, our findings will inform efforts to both improve patient care and train clinicians to move from physician-centric to multidisciplinary care delivery.