01.07.2008 | Original Contribution | Ausgabe 7/2008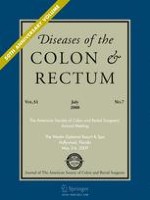 Fistula-Associated Anal Adenocarcinoma: Good Results with Aggressive Therapy
Zeitschrift:
Autoren:

M.D. Wolfgang B. Gaertner, M.D. Gonzalo F. Hagerman, M.D. Charles O. Finne, M.D. Karim Alavi, M.D. Jose Jessurun, M.D. David A. Rothenberger, M.D. Robert D. Madoff
Wichtige Hinweise
The authors have no relative financial disclosures to report.
Poster presentation at the meeting of The American College of Surgeons, New Orleans, Louisiana, October 7 to 11, 2007.
Abstract
Purpose
To evaluate the clinical features, pathology, treatment, and outcome of patients with fistula-associated anal adenocarcinoma.
Methods
We identified 14 patients with histologically proven fistula-associated anal adenocarcinoma. We reviewed their medical records and pathology specimens to characterize their presentation, treatment, and clinical outcome.
Results
Nine patients presented with a persistent fistula, 3 with a perianal mass, 1 with pain and drainage, and 1 with a recurrent perianal abscess. The average age at time of diagnosis was 59 (range, 37–76) years. Eleven patients had preexisting chronic anal fistulas. Ten had Crohn's disease, and 1 had previously received pelvic radiation therapy. The diagnosis of cancer was suspected during physical examination in 6 of the 14 patients (43 percent). Twelve patients had extensive local disease at presentation. Primary abdominoperineal resection was performed in 11 patients, 7 following neoadjuvant chemoradiation. Six patients received postoperative chemotherapy, and 2 received postoperative radiation. Four patients died with metastatic disease. The remaining 10 patients are alive without evidence of disease at a mean follow-up of 64.3 (range, 14–149) months.
Conclusions
The diagnosis of fistula-associated anal adenocarcinoma is often unsuspected. Most patients can be cured with aggressive surgical and adjuvant chemoradiotherapy.