23.06.2020 | Original Contributions | Ausgabe 11/2020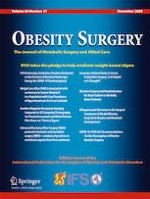 Five-Year Outcomes of Laparoscopic Sleeve Gastrectomy in Japanese Patients with Class I Obesity
Zeitschrift:
Autoren:

Yosuke Seki, Kazunori Kasama, Eri Kikkawa, Renzo Yokoyama, Taiki Nabekura, Akihiko Sano, Manabu Amiki, Yoshimochi Kurokawa
Wichtige Hinweise
Publisher's Note
Springer Nature remains neutral with regard to jurisdictional claims in published maps and institutional affiliations.
Abstract
Background
Bariatric surgery is being recognized increasingly as an effective treatment for obesity and related comorbidities. In Japan, the cost of laparoscopic sleeve gastrectomy (LSG) is covered by the national health insurance for adults with a body mass index (BMI) ≥ 35 kg/m2 and specific comorbidities (type 2 diabetes mellitus (T2DM), hypertension (HT), dyslipidemia (DL), and obstructive sleep apnea syndrome (OSAS)). However, only 0.6% of the adult population have a BMI ≥ 35 kg/m2. In contrast, 4.3% have class I obesity (a BMI of 30–34.9 kg/m2). The BMI of Asians with central obesity-induced diabetes and other metabolic disorders is much lower than that of Westerners.
Objectives
To evaluate the medium-term (up to 5 years) outcomes of LSG performed in Japanese patients with class I obesity.
Methods
One hundred eighteen consecutive patients with class I obesity treated by LSG at our center between August 2007 and December 2018 were included in a retrospective study. Mean preoperative body weight (BW) and BMI were 88.6 ± 10.3 kg and 32.8 ± 1.6 kg/m2, respectively. Weight loss, comorbidity status, and adverse events were assessed.
Results
Mean BW/BMI at 1, 3, and 5 years after LSG decreased significantly to 66.6 ± 11.2 kg/24.6 ± 2.8 kg/m2, 68.0 ± 14.0 kg/25.4 ± 4.0 kg/m2, and 69.1 ± 12.9 kg/26.5 ± 3.0 kg/m2, respectively. Mean total weight loss at 1, 3, and 5 years was 24.7 ± 8.2%, 21.8 ± 12.1%, and 18.5 ± 9.7%, respectively. Metabolic disorders such as T2DM, HT, and DL improved significantly. There was no mortality.
Conclusion
LSG is safe, yields excellent weight loss, and improves obesity-related comorbidities in Japanese patients with class I obesity.