16.11.2016 | Review | Ausgabe 1/2017 Open Access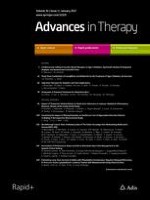 Fixed-Dose Combination of Canagliflozin and Metformin for the Treatment of Type 2 Diabetes: An Overview
Zeitschrift:
Autoren:

Jaime A. Davidson, Lance Sloan
Abstract
Metformin is recommended as a first-line therapy for patients with type 2 diabetes mellitus (T2DM). However, many patients do not achieve glycemic goals with metformin monotherapy and require subsequent combination therapy with other antihyperglycemic agents (AHAs). For newly diagnosed patients with high blood glucose, initial combination therapy may be required to achieve glycemic control. The American Association for Clinical Endocrinologists algorithm for the treatment of T2DM recommends metformin plus a sodium glucose co-transporter 2 (SGLT2) inhibitor as the first oral combination in patients who present with HbA1c ≥7.5%. Canagliflozin, an SGLT2 inhibitor, lowers the renal threshold for glucose and increases urinary glucose excretion leading to a mild osmotic diuresis and a net caloric loss. The effect of canagliflozin is insulin-independent and complementary to other AHAs, including metformin. A fixed-dose combination (FDC) of canagliflozin and metformin is also available with variable dosing, which may be attractive to some patients owing to the potential for reduced pill burden and costs. This article reviews the efficacy and safety of canagliflozin in combination with metformin based on data from the canagliflozin phase 3 clinical program. As initial combination therapy in drug-naïve patients or as dual therapy with metformin or triple therapy in combination with metformin and other AHAs, canagliflozin 100 and 300 mg improved glycemic control and provided reductions in body weight and systolic blood pressure that were sustained for up to 104 weeks. Canagliflozin was generally well tolerated across studies in combination with metformin. An increased incidence of adverse events (AEs) related to the mechanism of SGLT2 inhibition (i.e., genital mycotic infections, urinary tract infections, osmotic diuresis-related AEs) was observed with canagliflozin. Canagliflozin was associated with a low incidence of hypoglycemia when not used in conjunction with AHAs associated with hypoglycemia (i.e., insulin or sulfonylurea). Together, these results support the use of a canagliflozin and metformin FDC as a treatment approach for a broad range of patients with T2DM.
Funding
: Janssen Scientific Affairs, LLC.