06.12.2017 | Short Communication | Ausgabe 3/2018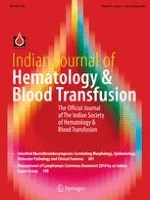 Flow Cytometric Eosin-5′-Maleimide Test is a Sensitive Screen for Hereditary Spherocytosis
Zeitschrift:
Autoren:

Preethi S. Chari, Sujay Prasad
Wichtige Hinweise
Electronic supplementary material
Abstract
Hereditary spherocytosis (HS) is a clinically heterogeneous disease characterized by mild to moderate hemolysis resulting from red cell membrane protein defects. Diagnostic tests include hemogram, reticulocyte count and blood smear evaluation, osmotic fragility, cryohemolysis, SDS-PAGE, flow cytometry using eosin-5′-maleimide (EMA) and genetic studies. We evaluated the flow cytometric EMA-binding test and compared it with osmotic fragility in 51 consecutive cases of suspected HS aged between 10 days and 62 years. In addition, 4 cases suspected on blood smears underwent EMA testing alone. The 16 EMA-positive cases who were determined to have HS had overlapping hemoglobin levels and reticulocyte counts with the 35 patients with normal EMA results, highlighting the importance of the flow cytometric test in providing a definitive diagnosis. Flow cytometric EMA binding test was thus a simple and relatively faster method to confirm HS in our experience.