18.11.2019 | Research article | Ausgabe 2/2019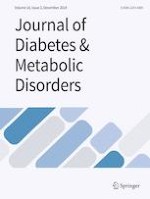 Flowers of
Clerodendrum volubile

modulates redox homeostasis and suppresses DNA fragmentation in Fe2+ − induced oxidative hepatic and pancreatic injuries; and inhibits carbohydrate catabolic enzymes linked to type 2 diabetes
Zeitschrift:
Autoren:

Ochuko L. Erukainure, Olajumoke A. Oyebode, Veronica F. Salau, Neil A. Koorbanally, Md. Shahidul Islam
Wichtige Hinweise
Publisher's note
Springer Nature remains neutral with regard to jurisdictional claims in published maps and institutional affiliations.
Abstract
Introduction
Medicinal plants have long been recognized for their roles in the treatment and management of diabetes and its complications. The antioxidative and antidiabetic properties of
Clerodendrum volubile
flowers were investigated in vitro and ex vivo.
Methods
The flowers were sequentially extracted with solvents of increasing polarity (n-hexane, ethyl acetate, ethanol and water). The concentrated extracts were subjected to in vitro antioxidant assays using the 2,2′-diphenyl-1-picrylhydrazyl (DPPH) scavenging and Ferric reducing antioxidant power (FRAP) protocols. Their inhibitory activities were investigated on α-glucosidase, pancreatic lipases, pancreatic ATPase and glucose-6-phosphatase activities. Their anti-oxidative and anti-apoptotic effects on Fe2+-induced oxidative injuries were also investigated in pancreatic and hepatic tissues ex vivo.
Results
The extracts showed potent free radical scavenging activity and significantly (
p
 < 0.05) inhibited all studied enzymes. The GSH level was significantly (
p
 < 0.05) elevated in both tissues with concomitant increase in superoxide dismutase (SOD) and catalase activities as well as reduced levels of malondialdehyde (MDA). The extracts significantly (
p
 < 0.05) suppressed DNA fragmentation in hepatic tissue. These activities were dose-dependent. The ethanol extract showed the best activity and can be attributed to the synergetic effect of its chemical constituents identified via gas chromatography-mass spectroscopy (GC-MS).
Conclusion
These results suggest the antioxidative, antidiabetic and anti-obesogenic potentials of
C. volubile
flowers.