01.12.2017 | Review | Ausgabe 1/2017 Open Access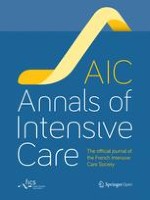 Fluid resuscitation in human sepsis: Time to rewrite history?
Zeitschrift:
Autoren:

Liam Byrne, Frank Van Haren
Background
Sepsis is a significant global health problem. The worldwide incidence of sepsis is increasing, with current estimates between 20 and 30 million cases annually [
1
–
5
]. The mortality of septic shock, the most severe form of sepsis, continues to be higher than 50% [
5
,
6
]. The cost associated with a single admission of a patient with sepsis has been estimated to be in excess of Euro 20,000 [
7
,
8
]. The treatment of sepsis has not significantly changed over the past 40 years, with the currently used therapies of antibiotics, source control, fluid resuscitation and judicious use of vasopressors recommended in a familiar form in the literature as far back as 1970 [
9
].
Fluid resuscitation remains the most enduring of sepsis treatments predating even antibiotics. Its beginnings date to the European cholera epidemic of the 1830s, where it was first used to replace the losses associated with cholera diarrhoea [
10
]. In modern practice, fluid resuscitation has developed to encompass both corrections of absolute and relative hypovolemic states with the additional goal of augmenting cardiac output to restore organ perfusion pressure and improve oxygen transport to cells [
5
,
11
,
12
].
Unfortunately, there is no agreed uniform definition of fluid resuscitation in the literature. Fluid administration is not necessarily the same as fluid resuscitation. It is important to differentiate between fluid substitution and volume substitution in intensive care patients, a distinction that has not always been appreciated sufficiently in the design of fluid studies [
13
]. For the sake of simplicity and consistency, we define fluid resuscitation for sepsis in this review as the administration of intravenous fluids to correct sepsis-induced tissue hypoperfusion. This definition is consistent with the surviving sepsis guidelines and implies a targeted approach to a clinical problem [
12
].
The following article reviews the rationale for the introduction of fluid resuscitation as treatment for sepsis and highlights a number of significant concerns based on current experimental and clinical evidence.
Evolution of fluid resuscitation as a therapy for septic shock
Changing understanding of sepsis and resuscitation
The case for tissue hypoperfusion in hyperdynamic sepsis was based on the occurrence of an increased lactate, oliguria and delivery-dependent oxygen consumption, with each finding attributed to occur due to inadequate blood flow. It was then assumed that fluid resuscitation would produce clinically relevant improvements in cardiac output able to reverse pathological tissue hypoperfusion. This example of linear clinical reasoning based on physiology is likely to be overly simplistic, and each element can be challenged by current evidence.
Preclinical evidence for the use of fluid resuscitation in sepsis
Several experimental studies in animals have investigated both the effectiveness of fluid resuscitation in improving the septic shock state and its effect on sepsis mortality.
In animal models of septic shock, fluid resuscitation resulted in modest improvements in a number of physiological variables. The most consistent finding from large animal models of sepsis is that of a short-term improvement in cardiac output associated with fluid resuscitation, with the effect dissipating rapidly after the termination of infusion [
72
–
74
]. Similarly, a number of studies have demonstrated modest improvements in gastrointestinal perfusion with fluid resuscitation [
73
]; however, this finding is not consistent in all the animal studies [
74
]. These results support the observation that, although gastrointestinal mucosal blood flow is impaired in septic shock, treatment strategies specifically aimed at improving gastrointestinal perfusion such as fluid resuscitation have generally failed to correct mucosal perfusion abnormalities and failed to show improve important clinical endpoints [
75
].
There are several small and large animal models that demonstrate improvements in mortality with fluid resuscitation. For example, in murine models of both caecal ligation and puncture and endotoxemia, fluid resuscitation has consistently been shown to improve mortality when compared to no treatment and to provide additive benefit to both antibiotics and corticosteroids [
76
–
79
]. Similarly, fluid resuscitation improved mortality in porcine and canine models of endotoxemia and peritonitis, respectively [
80
,
81
].
The key problem with these animal studies, as briefly mentioned earlier, is the paucity of models that mirror the clinical presentation of sepsis in humans. The response to both sepsis and endotoxaemia in humans is different to commonly used murine, ovine and porcine models [
82
]. The dominant clinical form of sepsis in humans appears to be hyperdynamic sepsis, characterised by increased cardiac output and decreased systemic vascular resistance (SVR) [
9
,
32
,
33
,
35
]. When challenged with intravenous endotoxin, humans also develop a hyperdynamic circulation [
34
]. This contrasts with the response seen in most large and small animal models, where hypodynamic shock after sepsis or endotoxemia predominates [
72
–
74
,
76
–
78
,
82
,
83
]. These disparities occur from both the design characteristics of the models and the differences in human and experimental animal physiology. For example, both pigs and sheep have large numbers of pulmonary intravascular macrophages that are sensitive to circulating endotoxin. Activation leads to the rapid development of pulmonary hypertension and right heart dysfunction in ovine and porcine models of both sepsis and endotoxemia [
82
]. A similar clinical presentation of hypodynamic shock is seen in most murine models [
76
–
78
]. The dominance of hypodynamic models in the animal literature makes direct extrapolation of the effects of fluid resuscitation to human sepsis particularly problematic. The animal literature supports the conclusion that fluid resuscitation is effective for hypodynamic models of sepsis; however, it yields little insight on its effect in hyperdynamic septic shock.
Clinical evidence for the use of fluid resuscitation in sepsis
The observational data on the effects of fluid resuscitation in sepsis are conflicting, with studies suggesting equivocal, beneficial and negative effects on mortality.
Conclusion
Fluid resuscitation is recommended and widely used as the first-line resuscitative therapy for all patients presenting with septic shock. This practice seems mainly based on historical beliefs and an incomplete or incorrect understanding of the pathophysiology of sepsis.
Viewed as a whole, the bench-to-bedside evidence supporting fluid resuscitation as treatment for sepsis remains remarkably weak and highly conflicting. In addition, the indiscriminate use of fluid resuscitation, specifically beyond the initial resuscitation phase, has the potential to cause significant harm.
Although absence of evidence does not equal evidence of absence, one could argue there is an urgent need for better evidence. The research agenda should focus on the development of hyperdynamic animal sepsis models which more closely mimic human sepsis and on experimental and clinical studies designed to evaluate minimal or no fluid strategies in the resuscitation phase of sepsis.
The recent history of intensive care medicine has taught us that overly aggressive attempts to "normalise physiology", focusing on numbers, may be harmful. Perhaps the most important contribution towards improved outcomes of intensive care patients has been the removal of ineffective and potentially harmful treatments. Until proven otherwise, fluid resuscitation for sepsis fits that description.
Authors' contributions
LB was the primary author responsible for literature search, review and generation of first version of manuscript. VH was involved in critical revision and editing, generation of revised manuscript and response to reviewers. Both authors read and approved the final manuscript.
Competing interests
Both authors declare that they have no competing interests.
Funding
No funding was obtained for the creation of this review.
Open Access
This article is distributed under the terms of the Creative Commons Attribution 4.0 International License (
http://​creativecommons.​org/​licenses/​by/​4.​0/​
), which permits unrestricted use, distribution, and reproduction in any medium, provided you give appropriate credit to the original author(s) and the source, provide a link to the Creative Commons license, and indicate if changes were made.